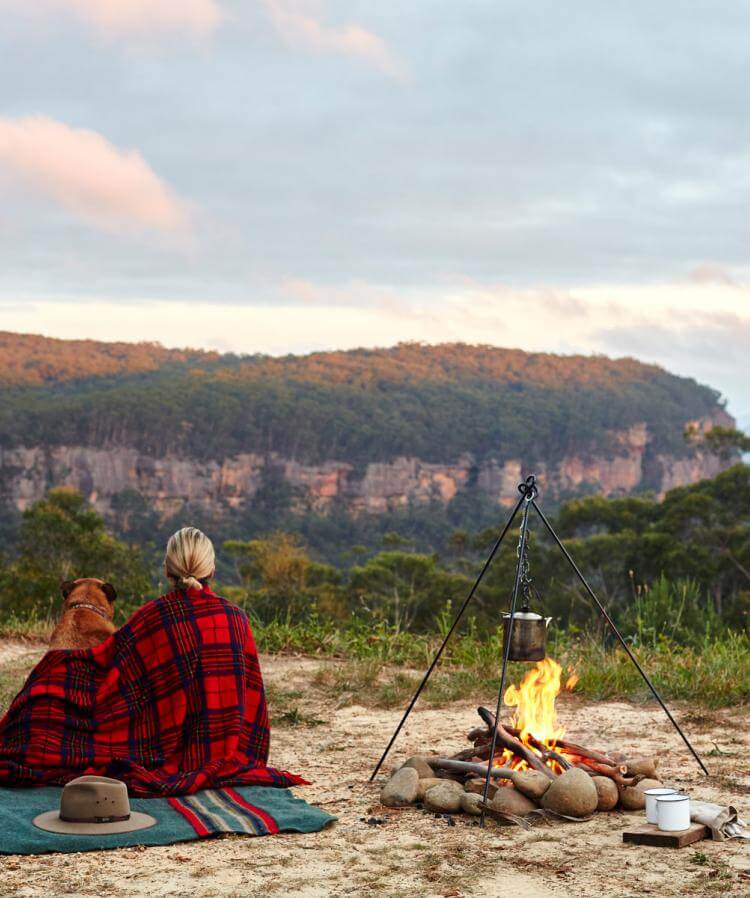 As NSW's first official 'slow town', Katoomba is building on its reputation as a place to slow your pace and soak in your surroundings.
Anyone who has travelled to, or through, the Blue Mountains before has likely been to Katoomba: the highest profile village of the region. Katoomba has a long-standing reputation as a place popular for seeking total time out and good, old fashioned Nourishment. The locals here know something the city slickers don't: that the slow life is the good life.
Just over a decade ago it was officially endorsed as one of just 228 designated cittaslows (literally 'slow towns') worldwide. Extending from the slow food movement, cittaslow communities are built on a love of the simple things in life – such as locally grown produce and artisanal products – and the polite refusal to accommodate things such as fast food chains and big companies that distract from local businesses.
Naturally, cittaslows such as Katoomba also demonstrate an appreciation for the seasons, traditions, small-town culture, heritage buildings, and the environment. At a deeper level, the slow city movement is integral to changing our world, and our perspectives, one town at a time.
Slow food, sustainable tourism, mountain magic
When you catch glimpses of heritage buildings through early morning fog, it feels like you're travelling through the mists of time. Life creeps unhurriedly into the village, and the fog will lift to reveal the freshly painted façades of a quaint but beautiful town undergoing a touristic revival. Each year, thousands visit Katoomba and its surrounding villages to wander amidst the gardens and ancient landscapes, or to meditate by the fire within their quaint cottages and B&Bs. Increasingly, enjoying locally grown food is another pleasure.
Blue Mountains Food Cooperative
Located in a lane off Katoomba Street, the bustling hub of the Blue Mountains Food Cooperative connects the community to quality food. Hand-woven baskets spill onto the pavement and fresh bunches of organic kale, backyard-raised greens, herbs and apples line the entrance.
Reputed to be the largest food cooperative in the Southern Hemisphere, the shelves brim with dried fruits, nuts, varieties of flours, oils and condiments, local honey, fridge goods including vegan ice cream, gluten-free and organic bread and much more. A second shop across the lane houses non-food items like personal care products, seeds and cooking utensils.
Prue Adams, the Co-op's education coordinator, says they prioritise local and Australian fair trade, organic, GM and chemical-free goods. One of the most unique sections showcases local 'backyard' fruit and veg. "Anyone who is a member of the co-op can bring in surplus food on consignment," Adams says. "The label says who the grower is and where it's grown." Completely seasonal and organically grown, it sells out fast.  bmfoodcoop.org.au
Hominy Bakery
Get ready to taste bread as you've never tasted it before. Qualifying for possibly the slowest bread in the world, traditionally produced sourdough takes eighteen hours to make from beginning to end. "A standard [commercially produced] loaf takes one hour," says Hominy Bakery owner, Jennifer Ingall.
Ingall, along with baker and business partner Brent Hersee, has been producing this traditional, organic sourdough in the Blue Mountains for 29 years. But their bread isn't just delicious, the extended fermentation process that they have been perfecting for nearly three decades to give their sourdough its unique sourness also increases its digestibility. "It's much more flavoursome and much better for you," Ingall says. "We're trying to do everything as real and as beautifully as we can."
Come for a loaf of bread, stay for the homemade sandwiches, pastries and cakes – including a delicious gluten-free almond, citrus and cardamom cake.
Logan Brae Orchard
Located on the Shipley Plateau, 10 minutes from Katoomba, the scenic Logan Brae Orchard boasts spectacular views of the Blue Mountains escarpments and a unique taste of farming lifestyle. Estimated to be nearly a hundred years old, Logan Brae is now the only commercial orchard in what was once an apple-growing area. And at 1100 metres above sea level, the extreme climate produces fruit of intense flavour and vibrant colour. Self-taught orchardist and owner Sam Edwards has also planted several heirloom apple varieties that you won't see on supermarket shelves, including Fenoillet Gris, Kidd's Orange Red and Spitzenburg.
There is a variety of produce available at the Logan Brae 'packing shed' including fresh and dried apples, hot apple pies, hot spiced apple juice and seasonal homemade jams, jellies.
For more information on Katoomba and the Blue Mountains head to bluemts.com.au and visitnsw.com.au
Author- Linda Moon
Photography- Linda Moon, Asia Upward, Destination NSW
---
Discover more incredible travel destinations in Audrey Daybook, the world's most enchanting puzzle and lifestyle magazine.