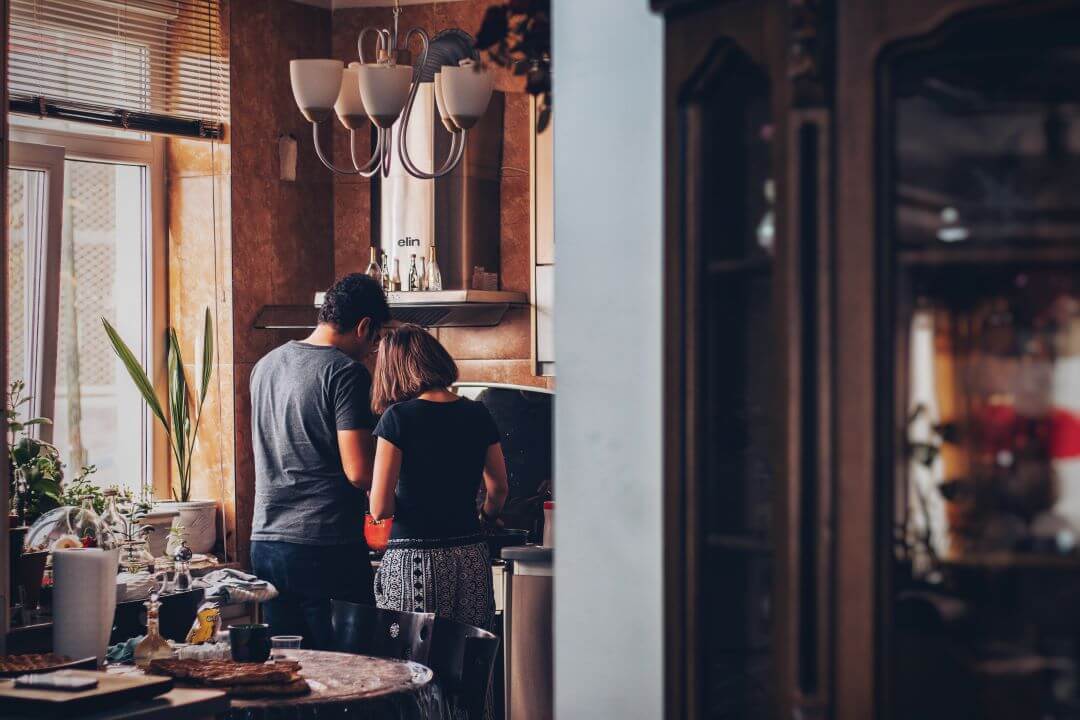 Stepping into the kitchen can offer mindful and meditative moments. Let's try a little cooking therapy to bring a sense of calm to our often chaotic lives.
In difficult times, we seek to alleviate stress in a variety of ways, whether chatting to a friend, dancing like crazy, spending time in nature, meditating, or enjoying a long hot bath. No matter the remedy we choose – these can all be viewed as forms of therapy. Yet another form is cooking. Donning an apron and whipping up a batch of cookies can have more emotional benefits than you may realise. Cooking therapy is available to everyone, and can be enjoyed alone, with a partner, or in a group setting. Following a recipe, or even creating one, requires focus and mindfulness. It allows you to step away from the daily grind, the chatter of your mind, the stresses of life, and become present with the task at hand. Measuring the flour, sprinkling the sugar, mixing the batter, and greasing the trays. A lick of the spoon and your sense of taste is activated, a waft from the baked goods in the oven a reward for your sense of smell. Following a tried and true recipe, preparing a thoughtful dinner, or slowly and mindfully chopping the vegetables are all things we have control over. In its simplicity, cooking brings a sense of calm to our chaotic lives.
Home cooks are not the only ones to benefit from cooking therapy. The healthcare industry is beginning to recognise the importance of using culinary activities as a way of treating conditions such as depression, anxiety, eating disorders, and addiction. A study by Farmer et al. in 2018 explored the benefits of cooking as therapy in the healthcare system and revealed the positive influence of community cooking activities. The research showed that "baking sessions led to improved self-esteem, primarily as a result of increased concentration, coordination, and confidence" and that giving away the baked goods was "beneficial and rewarding". Debra Borden, The Sous Therapist, designs cooking therapy sessions for her clients by combining cooking with a concrete therapy structure. She says, "the session is less about the food and more about the act of cooking with a focus on mindfulness, authentic self-reflection, and your own decision making about change." When we cook, we're often feeding others too. Not only do we enjoy the satisfaction of creating a meal, but also the emotional reward of giving. There's an innate part of our soul that loves to give and in doing so, we receive joy in return. When you cook for the practical purpose of making dinner for your kids or bulk cooking your weekly meals on Sunday, it may feel like a boring task. However, there are therapeutic benefits to be had. The difference between cooking for practical purposes and cooking for therapy is awareness, perspective and intention. Sharing the cooking ritual can also bring a family together through cooperation, learning new skills, and achieving shared goals. And after the meal is cooked, there is further reward in tucking into your creation together. If life is feeling out of control, cooking therapy can offer certainty and self-worth. We might not be able to foretell the future, solve our financial strains, immediately fix personal or work conflicts – but we can bake a cake and bring a little love and deliciousness into the world. Here are some simple activities you might like to try as a form of cooking therapy.
RECREATE A CHILDHOOD DISH
Have you ever been instantly transported to the past by the smell or taste of food? This is referred to as 'Proustian memory' and is a result of our odour memory. According to Moss and Johnson, who have studied this phenomena, there is a "strong relationship between odour and emotion… from the part of the brain involved in processing odours being positioned within the limbic system – an area of the brain integral to emotion". So, choose a nostalgic meal from your childhood. Perhaps a sweet treat that your grandma used to make? Dig out recipes for those family favourites and adapt them to suit your diet today. Lay the table, set up a beautiful space, and honour those memories.
MAKE PASTA FROM SCRATCH
Give yourself the gift of time. Just like making bread or pizza dough, making pasta from scratch can be a meditative process.  It's even a bit similar to art therapy, except you replace the clay with dough, ultimately creating beautiful pasta shapes, just like little sculptures. You'll experience play, focus, presence and a sensory experience. It's also physical without being exhausting. And after all this, you get to devour a silky-soft plate of fresh pasta.
MAKE FOOD GIFTS FOR FRIENDS
Food often involves sharing and connection. So why not create food gifts either for or with your friends? Giving is mostly centred around the recipient of the gift and how they will feel. But the giver experiences just as much pleasure in creating the gift. What a pleasant cycle of giving! Perhaps you can get together at a friend's house and prepare food gifts together. You might bake a batch of cookies and create your own packaging and gift card. Or layer the perfect hot chocolate mix into a mason jar and attach a homemade label. Try preserving jams from seasonal fruits or pasta sauce from an abundance of tomatoes, then share them with friends, family, workmates, or neighbours.
HOST A TEA PARTY
Hosting a tea party can be just the escapism you need. Everything just tastes better at a tea party! When we delight in the treats we prepare and the company we keep at a tea party or tea ceremony, we allow ourselves to taste the beauty of life. Italians refer to this experience as dolce far niente or the sweetness of doing nothing. The Danes have their own term, hygge, which translates to a feeling or moment of pure contentment. The Japanese phrase ichi-go ichi-e, which literally means one time, one meeting. What a perfect reminder that there is only this present moment, this once in a lifetime occurrence.  So, delight in time and treats with your friends!
Cooking isn't just for function. Cooking therapy can be a transformative tool to include in our wellbeing toolkit. Step into the kitchen, clean the bench tops, pull ingredients off the shelf, and cook with love!
TIPS FOR MINDFUL MOMENTS
Choose a simple recipe to unwind, relax and enjoy the feeling of accomplishment.
When you're ready to master a new skill, try more complex dishes as a form of artistic creativity.
Create an inspiring space, fit for purpose. Play your favourite music and pour a glass of bubbly, wine or kombucha to get in the mood.
Ensure you have plenty of time carved out for your cooking session. Be present in each step of the process.
Enjoy the full sensory experience – awaken your senses and connect to each one as you cook.
If you are craving social connection, consider attending a group cooking class or even hosting an online cooking party!