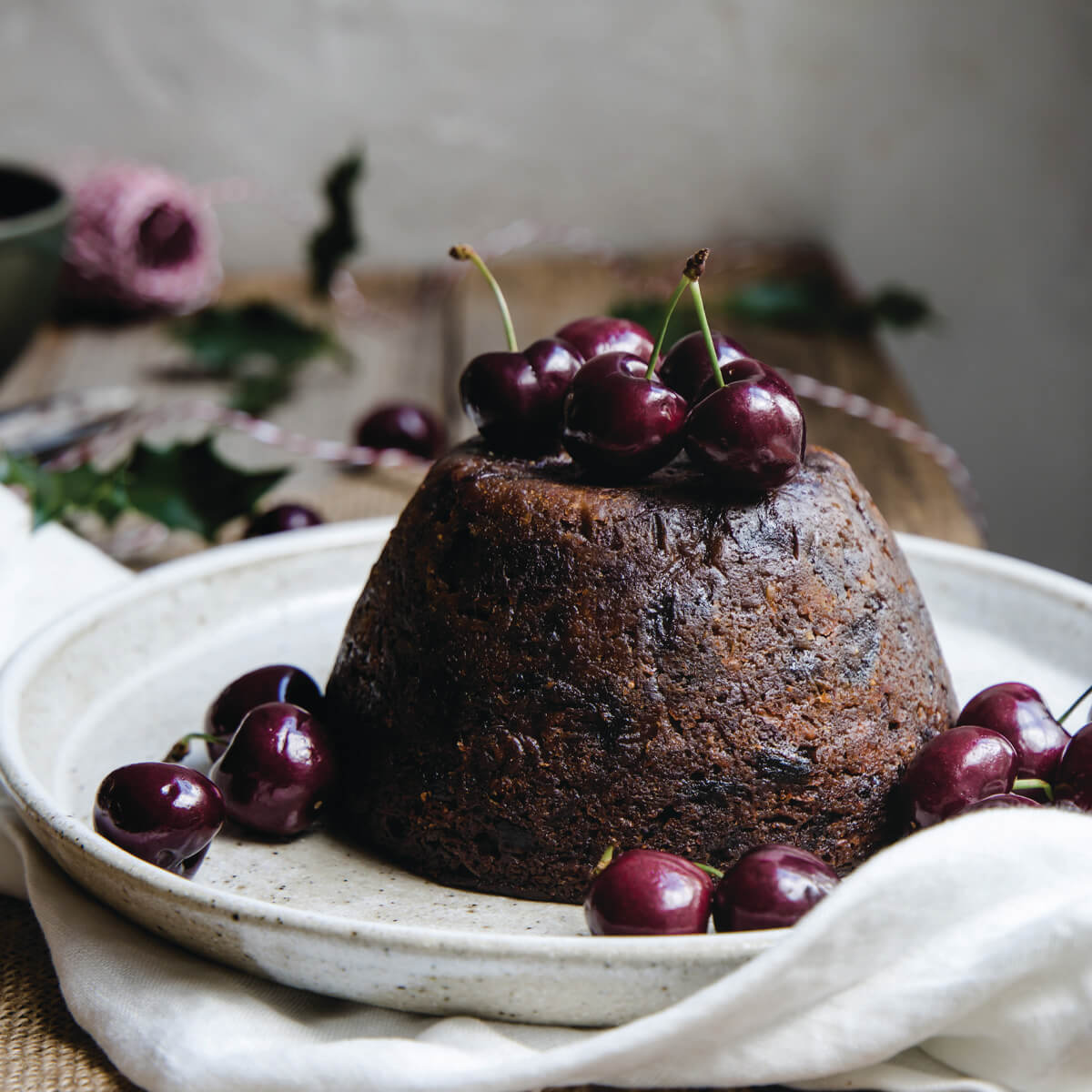 Method
Place the sultanas, dates, cranberries, and pears in a large mixing bowl. Stir in the brandy and leave to soak, covered, overnight.
The next day, preheat the oven to 160°C. Grease a 1-litre pudding pot and line the bottom with a circle of baking paper.
Place the pecans in a food processor and roughly chop, then add them to the dried fruit mixture. Make sourdough breadcrumbs by pulsing the crustless bread in the processor, then add these to the mixing bowl as well.
Next add the flour, sugar, allspice, melted coconut oil, orange juice and zest, and aquafaba to the bowl and stir through until well combined. Spoon the mixture into the prepared pudding pot, compressing and smoothing out the batter as best you can.
Cut two sheets of baking paper into circles 8cm larger than the mouth of the pot. Lay the sheets on top of each other and fold a 2cm pleat down the middle (to create space for steam). Place the pleated paper over the mouth of the pot and secure with kitchen twine.
Place the pudding in an oven-proof pan and carefully fill the pan with boiling water to reach halfway up the side of the pudding pot. Place in the oven and bake for 4½ to 5 hours, or until a skewer comes out clean from the centre of the pudding.
Either serve immediately or wrap the pudding tightly to store in a cool, dry place until ready to serve. To reheat with the best results, return the pudding to its pot and place it in a saucepan filled to halfway up the side of the pudding pot with boiling water. Warm over a low heat for 10 to 15 minutes, or until warmed through.
TIP: For a perfect pud, it's best to use a kitchen scale to measure the ingredients where a weight is given.