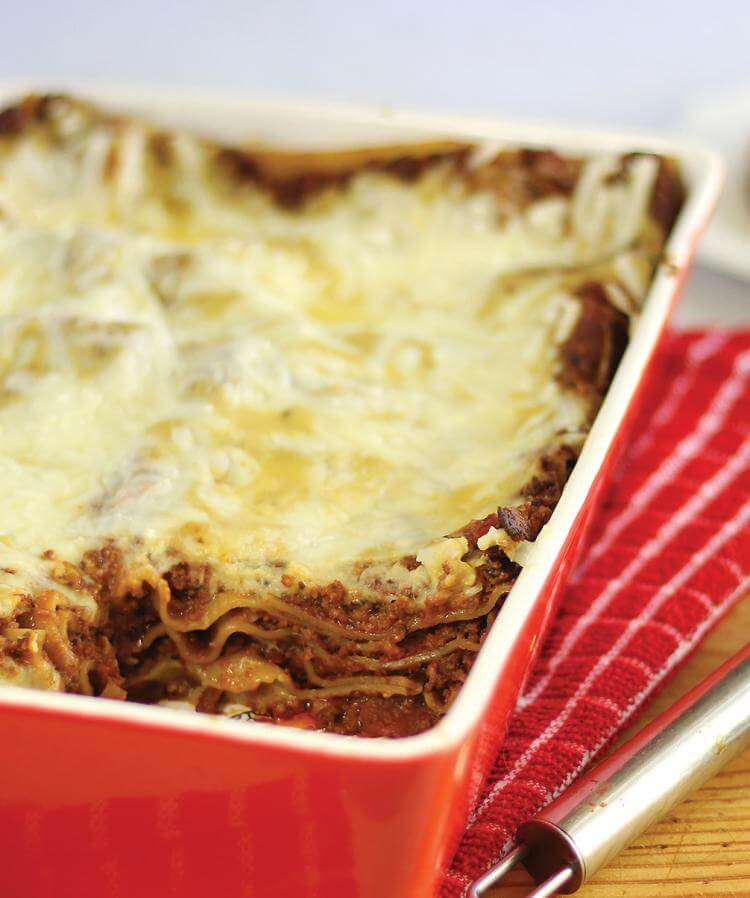 Ingredients
POMODORO SAUCE
WALNUT MINCE
BÉCHAMEL SAUCE
Method
Make the pomodoro sauce. In a medium saucepan, heat the oil and fry the garlic over a low to medium heat for 1 minute, being careful not to brown. Stir through the tomatoes, salt and optional basil. Cover and simmer while you make the walnut mince, stirring occasionally.
To make the walnut mince, add all the mince ingredients except the oil to a food processor and process until it resembles mince crumbs.
Heat the 2 tablespoons of olive oil in a large non-stick frypan. Fry the walnut mince for 3 minutes until browned off.
Transfer the mince into the pomodoro sauce. Stir, cover and simmer on low for a further 10 minutes.
Preheat oven to 190°C.
To make the béchamel sauce, place the butter in a medium saucepan over a medium heat and allow to melt. Add the flour and stir to a smooth paste. Continue to stir for 2 minutes, allowing the flour to cook off but being careful not to brown it. Gradually whisk in the soy milk 1 cup at a time until smooth. This will create a pouring consistency rather than a thick béchamel, however it will thicken a little once off the heat. Stir through the nutritional yeast flakes, salt and pepper. Simmer on low while stirring for a couple of minutes. Remove from heat.
Assemble the lasagne. In an ovenproof dish (I use a 30cm x 20cm dish) spread a large ladleful of the walnut ragu. Follow with a large ladleful of the béchamel. Sprinkle over a handful of the mozzarella.
Cover with a single layer of the lasagne sheets. Depending on the size of your dish and/or pasta sheets, you may have to snap some of the lasagne to fit.
Repeat the layering process, another 1 to 2 layers, ensuring the lasagne sheets are covered with the sauce. Finish with a generous layer of béchamel and the remaining mozzarella. Cover and bake for 30 minutes.
Remove cover and bake for a further 10-15 minutes. To check if the lasagne is cooked, insert a knife to test if it slides through the pasta easily. Remove from oven and allow to cool slightly before serving.