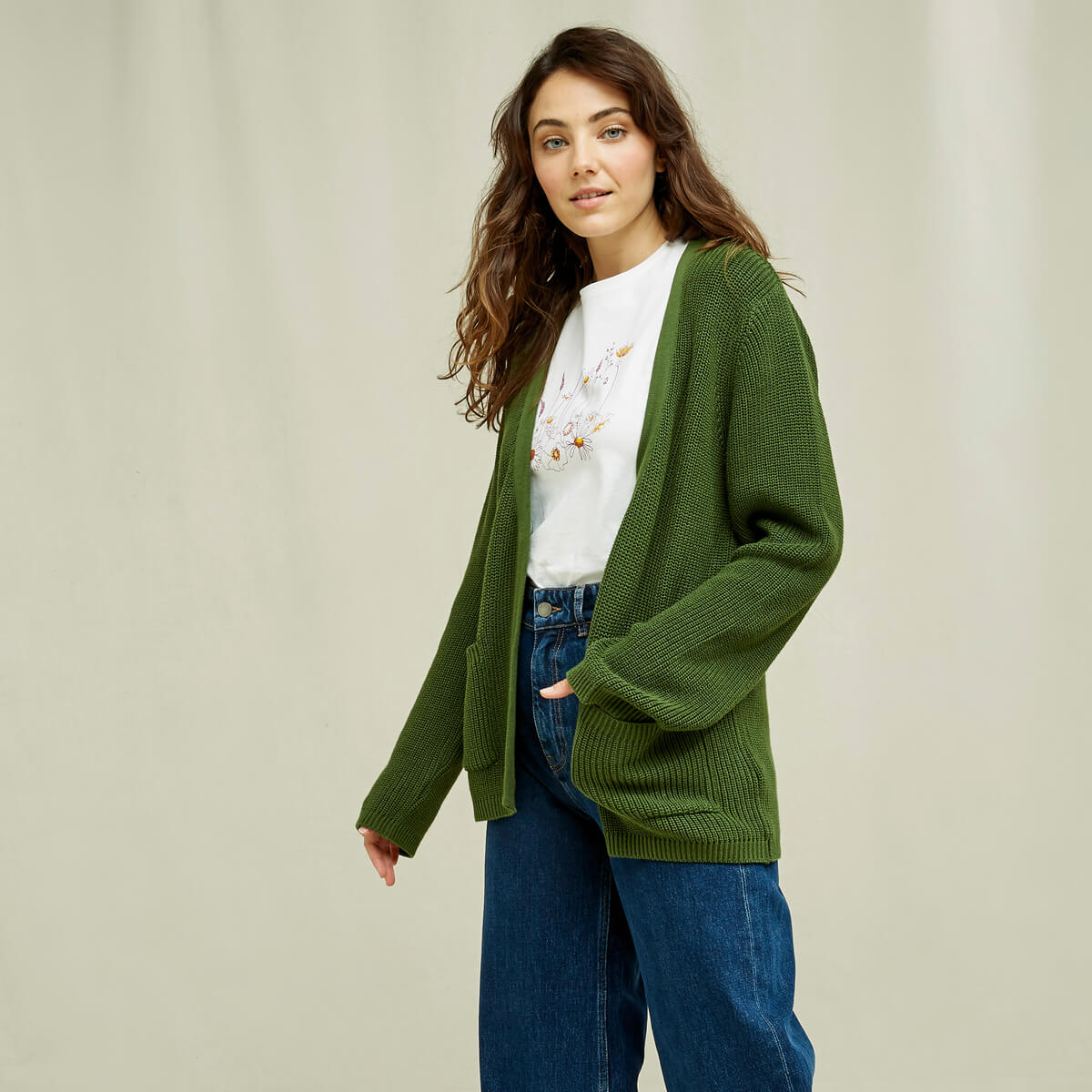 Everyone loves a chunky cardi, but can we wrap up in knitwear that is both vegan and eco-friendly?
As the days get chillier, we love wrapping ourselves up in cosy, chunky knits – from oversized cardigans to comfortable cable-knit jumpers. Knitwear is a fundamental part of most autumn and winter wardrobes. But there's a dark side to our favourite wardrobe staples when they are derived from animals.
THE PROBLEM WITH ANIMAL FIBRES
Most people who wear wool have little idea of the suffering behind it. In Australia, many wool farmers still practise mulesing – a painful procedure where chunks of skin are cut off sheep's bodies to keep flies from laying eggs in their excess wool, which they only have because they have been bred to have much more wool than they would naturally need. But even if sheep haven't been mulesed, cruelty is still an issue. Undercover investigations have revealed that violence is pervasive in the industry. Workers around the globe have been seen abusing animals, some even pleading guilty to charges of animal cruelty.
Similarly, violence and abuse has been documented in the production of cashmere, mohair, angora, and alpaca. From rabbits at angora farms in China, whose fur is torn out of their bodies, to the mohair goats being roughly, violently sheared in South Africa and alpacas being abused at what are said to be 'local family farms' in Peru, this should teach us once again that there is no way to use animals that does not involve cruelty.
Animal-derived knitwear materials are often celebrated for being 'natural', but sheep, much like cows, emit large quantities of methane, a potent greenhouse gas with several times the global warming potential of carbon dioxide. The sheep in Australia and New Zealand – the world's major wool producers – are among the top contributors to methane emissions in both countries. As for cashmere, the overgrazing of goats majorly contributes to desertification in Mongolia and China, where it is produced. These areas are already at risk for desertification, and cashmere production makes the matter much more serious.
So, if wearing animal-derived knits is not an option, are human-made synthetics that are highly polluting and release microplastics into the waterways any better? Not necessarily. But there are options for dressing with compassion and respect for the planet, without using animal fibres or contributing to plastic pollution.
THE ALTERNATIVES TO KNOW ABOUT
Here are the fabrics to have on your radar as you seek out knitwear for the cooler months.
ORGANIC COTTON
Organic cotton is hands down the easiest option for replacing wool and other animal-derived knits in a vegan wardrobe. Soft, comfortable, and widely available, organic cotton is the go-to choice for many brands. Organic is the best choice when it comes to cotton as it is grown without toxic pesticides and produces fewer carbon dioxide emissions. HEMP Possibly the most sustainable fabric in the fashion industry, hemp doesn't require pesticides or herbicides, which makes it ideal for organic farming. It is also the least water-intensive material of all the natural fibres.
BAMBOO FIBRE
Often used in vegan knitting yarns, bamboo fibre is strong, hypoallergenic, and resilient. It also absorbs moisture and has a comfortable and luxurious feel – perfect for knits.
TENCEL
This eco-friendly, vegan fabric, also known as Lyocell, is made from wood pulp cellulose. What makes it kind to the planet is the closed-loop technology used in its manufacturing. This means the water and chemicals used in the process are reused, in order to minimise waste.
SOYBEAN CASHMERE
Made from processed soybeans, this material drapes like cashmere and is just as soft. In addition to being cruelty free, soybean cashmere is also free from any petrochemicals and is wholly biodegradable with a cradle-to-cradle approach. This means all resources are used effectively and in a cyclical way.
RECYCLED FIBRES
Yes, we're talking about synthetics here – but not from brand-new, virgin resources. Recycling won't save the planet, but it can help us make use of waste, including plastic pollution. Blending recycled plastic (often from bottles pulled out of the ocean) with organic cotton can be a great way to make beautiful vegan fashion.
BRANDS WE LOVE
When you know where to look, you'll never be without a compassionate cardi or a chunky knit again!
PEOPLE TREE
One of the most iconic labels in ethical fashion, People Tree is the champion of all things organic. While not a 100 percent vegan brand, they offer ample vegan options in their knitwear range, most of them made from organic cotton. peopletree.co.uk
BLEED
Pared down, versatile and 100 percent vegan, bleed is the outerwear label that takes animals out of knitwear. Using organic cotton and Tencel, and adapting an outdoorsy sportswear aesthetic to everyday clothing, they provide the wardrobe staples you'll want to get familiar with this season. bleed-clothing.com
WILL'S VEGAN STORE
Originally a shoe label, this 100 percent vegan, independent brand now offers a range of sleek men's and women's cotton knits. You'll be able to team your new favourite jumper with one of Will's versatile, durable leather-free shoe designs. Talk about the ultimate in autumn style. wills-vegan-store.com
JAKKE
This is vegan knitwear for the fashion set. Think high-end silhouettes, unexpected textures, and a muted colour palette to die for – except nobody did, because jakke's collection is all vegan – no wool in sight. Recycled materials feature heavily in their covetable knitwear collection. jakke.co.uk
L'ENVERS
Craving a chunky, oversized knit? Bingo. L'Envers isn't a 100 percent vegan label, but their cotton designs are the ultimate in winterwear. Handmade, sustainably spun, and using only chemical-free dyes, this is one feel-good design you'll love to wear through to spring and beyond. lenversfashion.com
VELVETY
This Australian online boutique for all things vegan offers a range of slouchy cotton sweatshirts and relaxed knits – perfect for lounging at home. Wear with your favourite boyfriend jeans for the perfect blend of style and comfort. velvety.com.au
AMOUR VERT
While not a vegan label, this eco-fashion boutique does carry a selection of vegan designs that will add softness and sophistication to your autumn and winter wardrobe, minus the cruelty involved in animal-derived fabrics. amourvert.com