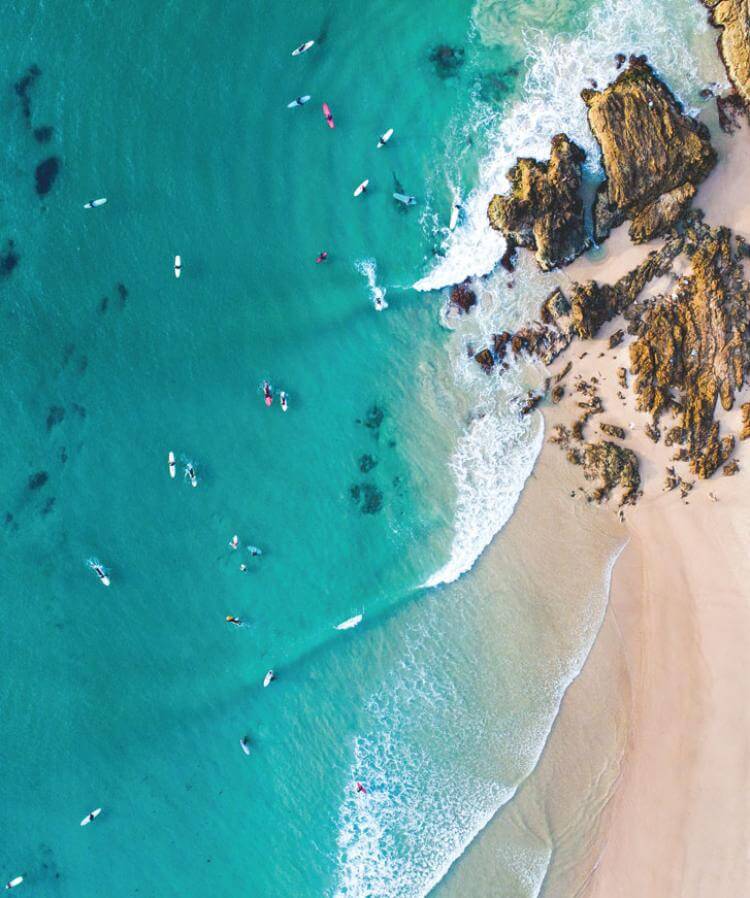 From the lush hinterland to the sparkling sea, you can't beat a retreat on the Sunshine Coast.
Swim
You'll be spoilt for choice when it comes to beaches on the Sunshine Coast; the world-renowned coastline here earnt two places in Trip Advisor's most recent Top Ten Australian beaches. Mooloolaba Beach came in at number four, and with good reason. You'll find a sweeping crescent-shaped beach with safe water conditions, stretching from the surf club all the way around to the spit. There's a little beach break, perfect for bodyboarders or beginner surfers, and calmer waters at the spit end for those who prefer a peaceful float. If you like to get a little further offshore, you can even swim with the humpback whales during their annual migration, or otherwise stay dry on a whale watching cruise. Onshore, there's a lively beachfront esplanade nearby, if that's your thing. But for us, the clear blue water of the Coral Sea, white sand and picturesque coastal views makes this the perfect beach for swimming.
Also making the top ten list of beaches is Noosa Main Beach, of course! It's a busy tourist hub year-round. The gorgeous, protected, north-facing beach is surrounded by bay, river and national park. However, if you prefer to escape the sun-loving crowds on Main Beach, head out into the national park, taking the forest and coastal trails around the headland. You'll enjoy spectacular sea views and, if you're lucky, may spot whales or dolphins from Dolphin Point. There's a series of stunning beaches, including Little Cove, Tea Tree Bay and Sunshine Beach. The surf gets more challenging as you follow the bays around the headland and they're unpatrolled, so take care when swimming. Perhaps seek out The Fairy Pools for a dip instead. These off-trail natural tidal pools are an Instagram favourite at low tide. Aim for an early morning visit if you want the pools to yourself.
Hike
If you're up for a longer hike, you can continue along the stunning Noosa Heads Coastal Walk all the way to Alexandria Bay. This gorgeous 5.6-kilometre trail winds through lush rainforest while offering breathtaking views of the ocean. This hike is the perfect escape for those who wish to immerse themselves in wildlife and escape the stresses of everyday life for a little while. Make sure to pack a picnic as there are plenty of places to stop and take in the view. This 3-hour walk showcases some great native wildlife, giving you a chance to spot koalas, black-cockatoos, turtles, and if you are able to go during the winter months, the stunning Humpback whale migration just off the coast. Once you reach Alexandria Bay – known for its sweeping golden sand and secluded shores – you can enjoy a swim, or if you're game, you might get your gear off and take full advantage of the local nudist beach.
There are also some great walking tracks around the Glass House Mountains, although to appreciate these distinctive peaks as a whole, it's best to view them from a distance. The craggy peaks are actually volcanic plugs, which are the centre points of several extinct volcanoes. While there are difficult summit tracks up a few of the peaks, these are culturally significant to the Jinibara and Kabi Kabi people, who ask visitors to refrain from climbing the mountains. We recommend Tibrogargan circuit or Trachyte circuit instead, both of which offer great views of the surrounding mountains. More adventurous walkers may like to tackle the Sunshine Coast Hinterland Great Walk, a 58-kilometre track through the Blackall Range with overnight camps along the way.
Eat
One thing we love about the Sunshine Coast is the focus on clean, healthy eating – making it pretty easy to find vegan eats all over. For a little hub of plant-based eateries, head to Maroochydore. There's something for everyone at the combined Charlie's Raw Squeeze and Moo-Free Burgers, from healthy juices, smoothies, bowls and ice creams to delicious and decadent plant-based burgers. Cafe Nurcha is a wholesome, family-owned cafe, with everything made on site. And Elixba Plant-Based Restaurant and Alchemy Bar is a must to visit with your crew. You'll love the whole food focus, botanical beers, and liquid alchemy drinks made with herbal elixirs and custom brewed or distilled alcohols. Our pick is the Hemp Chocolate Mudslide, a cocktail and a dessert in one – yes please!
If you're after a refined dining experience, our pick is The Tamarind in Maleny, offering sophisticated Asian cuisine and an impressive vegetarian menu, easily veganised. The flavours are bold and fresh, taking inspiration from Thailand, Malaysia, Cambodia, Vietnam and Korea. With dishes such as Bang Bang Eggplant, Gong Bao chickpeas and General Tso's Cauliflower, it's no surprise this restaurant was awarded one Chef Hat in the 2020 National Good Food Guide. Another good option is Harry's On Buderim on the edge of the Buderim Forest Park. This restaurant offers contemporary Australian cuisine, including a small but dedicated vegan menu, in the setting of a 139-year-old, heritage-style homestead.
Shop
While there's certainly fantastic shopping in Noosa Village, our pick is the slightly quirkier, more unique experience that is The Original Eumundi Market. This vibrant market was founded in the 70s for artisans and farmers, and retains its character to this day. The focus is on products handmade by local craftspeople and sustainable practices. With several market operations now making up the overall Eumundi Market experience, it's become the biggest art and craft market in the country, with over 600 stalls. You'll find homewares, artworks, ceramics, fashion and jewellery alongside plenty of fresh produce and gourmet delights, with a fabulous lineup of musicians and street performers to entertain you. Our pick for lunch is a vegan burger, wrap or salad from Hempburger and a raw sugarcane juice with fresh lime and ginger from Noosa Cane Juice.
Another great day trip is a visit to the quaint mountain villages of Montville and Maleny. The drive to get here forms part of the Blackall Range Tourist Drive, offering amazing views into the valleys below these hinterland towns, both of which have an artsy vibe with galleries, cafes, and boutiques to explore. You can visit the workshops of sculptors, painters,crafts people and potters in search of a one-off piece. Don't miss lunch at Living Kitchen in Maleny, a raw food paradise with an innovative menu. There are some beautiful nature walks in this area, too. Check out Kondalilla Falls near Montville, where you'll find a lovely rockpool in a lush rainforest at the top of the falls and perhaps even spot a pademelon. Another great place for wildlife spotting is Mary Cairncross Scenic Reserve near Maleny, which has a Rainforest Discovery Centre and some good walking tracks.
Retreat
Holiday accommodation on the Sunshine Coast is not difficult to come by, but for a luxury hideaway you can't go past Spicers Tamarind Retreat, an Asian-influenced refuge surrounded by natural beauty and healing calm. Set on 18 acres just outside the town of Maleny, you'll be tucked away from the hustle and bustle of the coastal towns, able to enjoy the serenity of the surrounding rainforest from the comfort of a private villa, some of which have outdoor cedar hot tubs. Nature is never far away, with the Obi Obi Creek and Gardners Falls just a short stroll away. Or for a pampering session, Spa Anise offers a selection of massages, a mineralised spa, hydrotherapy treatments, and a steam room.
For an experience of a lifetime, the retreat also offers a four-hour heli-adventure to Fraser Island, a UNESCO World Heritage Listed area and the world's largest sand island. The flight passes the Glass House Mountains, tracks the coastline to Noosa, up past Rainbow Beach before flying up the east coast of Fraser Island and landing at Orchid Beach. After a chef-prepared picnic lunch and two hours on the ground, the return flight crosses to the western coast of Fraser Island, tracks down to Noosa, then back to your hinterland retreat.