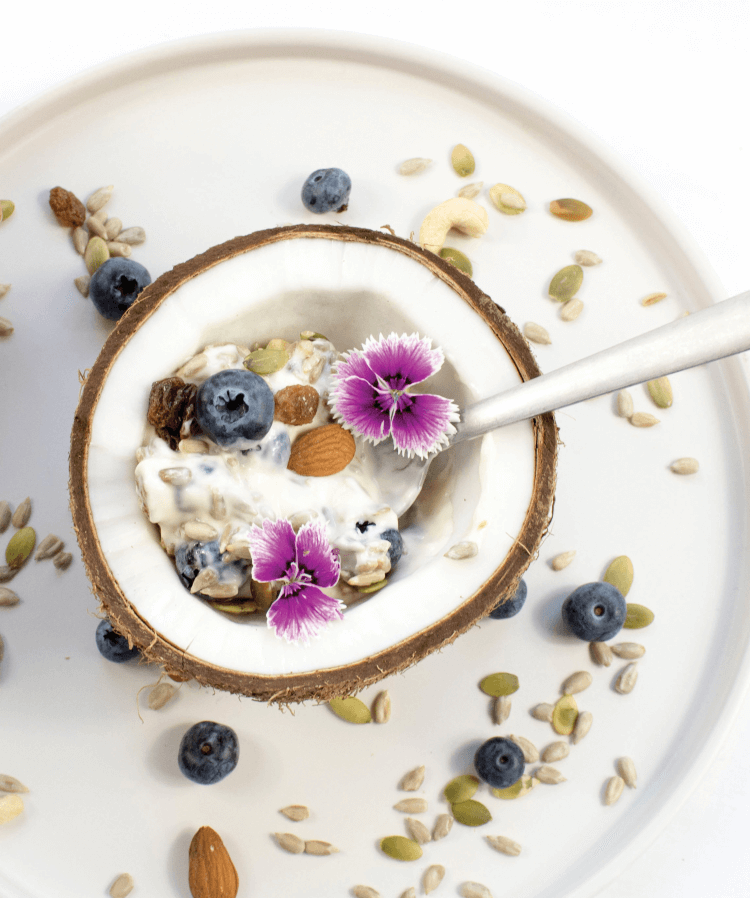 Nourish your body from the inside out! Building a happy gut microbiome will benefit your overall health and wellbeing.
Although he did not have the scientific and medical sophistication we now boast, more than 2,000 years ago Hippocrates, the father of modern medicine, had already clued into the fact that many diseases begin in the gut. We now have conclusive scientific evidence that the bacteria living in our guts play an essential role in determining our health. This includes increasing our mental health, reducing inflammation, decreasing the risk of diabetes, facilitating the efficiency of cancer treatments, and helping us maintain a healthy weight. I think it's about time we all learned how to take care of our gut so that we can Nourish our bodies from the inside out.
1. VARIETY IS KEY
Building a healthy gut starts with eating a vast variety of plant foods. The variety is absolutely crucial for diversity in our gut microbiota. Therefore, the best thing you can do to ensure a thriving and happy gut is to make sure you are constantly eating different plants rather than sticking to the same three vegetables with every meal.
2. EAT PREBIOTIC AND PROBIOTIC RICH FOODS
Prebiotics are a kind of plant fibre that along with resistant starch and phytochemicals feed the good bacteria in our stomach and therefore stimulate the growth of healthy bacteria. Probiotics are the bacteria themselves. So, to ensure your good bacteria is thriving and multiplying, feed it prebiotic-rich foods. Think apples, onions, garlic, banana, oats, whole grains and asparagus. Probiotic rich foods to look out for include kimchi, sauerkraut, miso and tempeh.
3. TAKE PROBIOTICS (BUT ONLY IF YOU'VE DISRUPTED YOUR GUT FLORA IN A MAJOR WAY)
If you're recovering from an infection or have taken a course of antibiotics, probiotic pills can help you re-establish a colony of good bacteria. Otherwise, there is insufficient evidence that popping a probiotic pill can do us any good.
4. CHOOSE ORGANIC
The increased use of pesticides in foods is one of the known culprits behind our overall loss of gut diversity and our declining gut health. Therefore, eating mostly organically grown foods can help reduce the amount of pesticides we ingest. And with the prices of organics going down each year, it has never been more affordable or easy to stock up on pesticide-free foods.
5. HIT YOUR DAILY FIBRE TARGET
Aim to eat 30g of fibre a day. My favourite fibre-rich foods are lentils, beans, chickpeas, brown rice, oats, quinoa and chia seeds. While eating a fibre-rich plant-based diet is undoubtedly health promoting, if you're not used to consuming a lot of vegetables, legumes and fruits, you may notice a significant increase in flatulence and bloating due to the increase of fibre. But these symptoms typically settle after a short time. Try to be patient with the process.
The medical community continues to unearth connections between the health of our microbiome and our overall health and wellbeing, so it's worth putting in the effort today to take care of your gut. It will continually pay of in the long term.