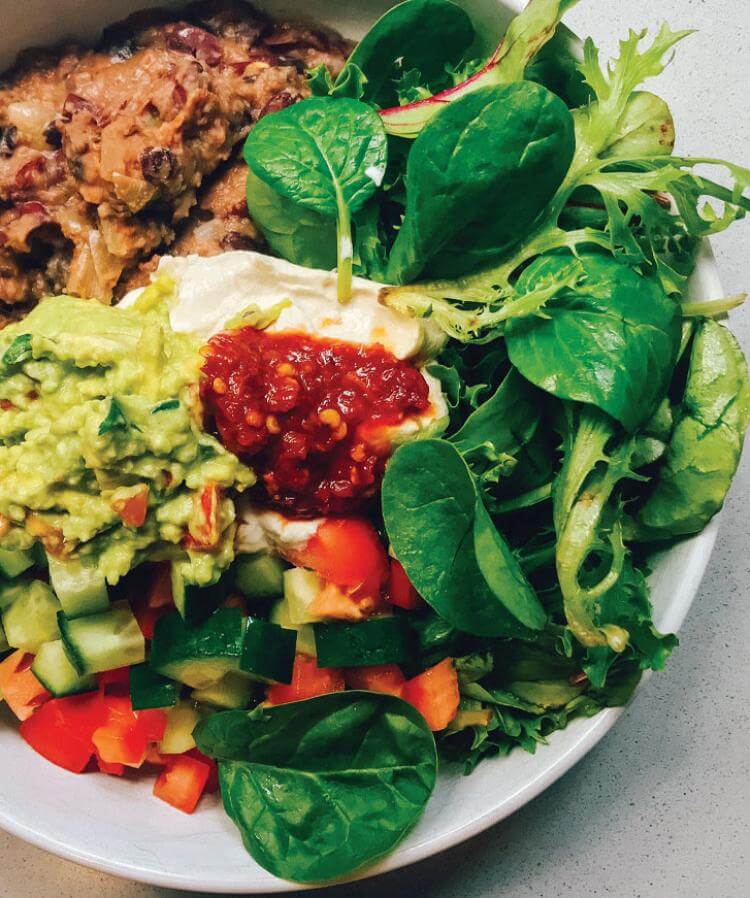 Ingredients
MEXICAN BEANS
CASHEW SOUR CREAM
TO SERVE
Method
Make the cashew sour cream. Soak the cashews in water overnight or for at least 15 minutes (overnight is best as you will yield more cashew sour cream). To make the cashew cream, drain the water and rinse the soaked cashews.
Place all cashew cream ingredients in a high-speed blender and puree until smooth. Add more water if necessary, it needs to be the same consistency as sour cream. Store in an airtight container in the fridge until required.
Make the guacamole. Remove the flesh from the avocados and mash them in a bowl. Add the tomatoes, jalapeno, onion, coriander, lime juice and salt. Stir well to combine. Refrigerate in an airtight container until required.
Make the Mexican beans. Heat a frying pan over a high heat. Add the onion and garlic, then sauté until golden brown, stirring continuously. Add a little water to deglaze the pan once they start to brown.
Stir in the cumin and coriander. Add the capsicum and stir. Add the tinned tomatoes, beans, and stock powder and mix well. Reduce the heat and gently mash the mixture with a potato masher as it cooks. The mixture will thicken and resemble refried beans (you can use a stick blender if you prefer).
Add the kale, stir through, and continue cooking until the kale is soft. Remove from the heat and store in an airtight container in the fridge until required.
To assemble the burrito bowls, arrange a scoop of warm Mexican beans and a scoop of rice in each bowl. Add the lettuce leaves, tomato and cucumber. Top with the guacamole and cashew sour cream. Add a teaspoon of sambal oelek and some fresh coriander leaves if desired.