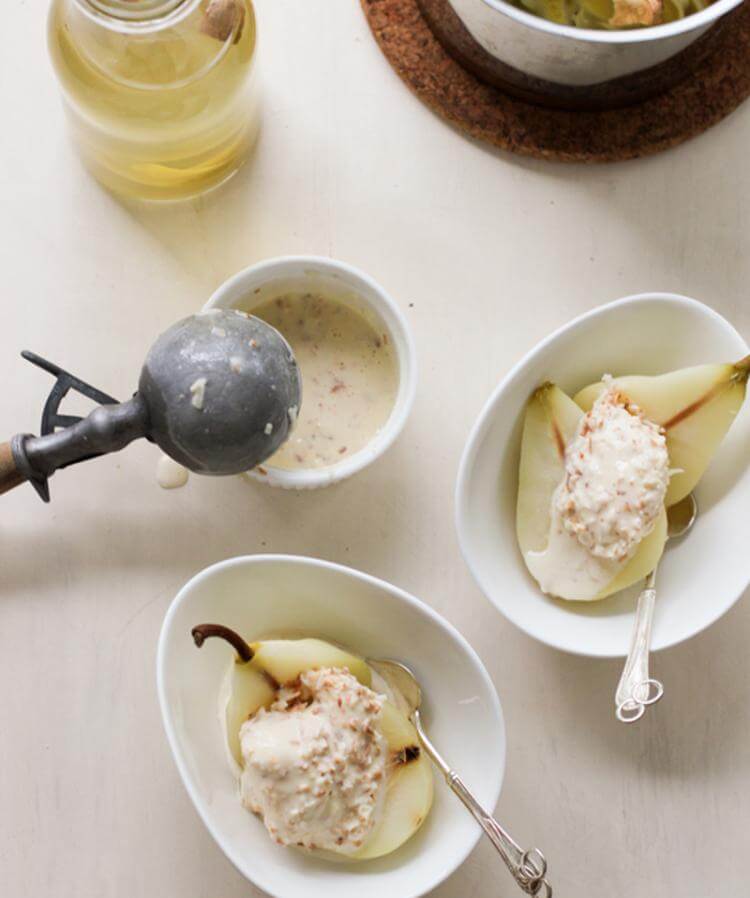 Not much goes to waste here. Pear peels are used to infuse the poaching liquid with extra flavour, as it makes for a light and aromatic pear, lemongrass and ginger tonic – wonderful for digestion, which can be enjoyed warm or cold depending on the mood.
Method
Bring water to a boil in a large saucepan. In the meantime, peel pears, reserving the peels.
Once the water is boiling, add the tea bag, pears and peelings, lime peel, chopped lemongrass and ginger.
Simmer gently for 15 minutes.
Turn off the heat, cover the saucepan and allow the pears and liquid to come to room temperature and the pears to finish poaching.
To serve pears, cut them lengthways.
Remove the core using a teaspoon.
Arrange one or two pear halves in a serving bowl.
Top with a scoop of dairy-free ice-cream or coconut ice-cream mixed with lightly toasted coconut through it.
Store pears in an airtight container in the fridge.
Pour poaching liquid into a jar or bottle and store in the fridge for up to four days.
Dilute the tonic with water or drink straight up, cold or warm.
You can even blend the ginger and pear peel into the liquid for an even more wholesome drink.