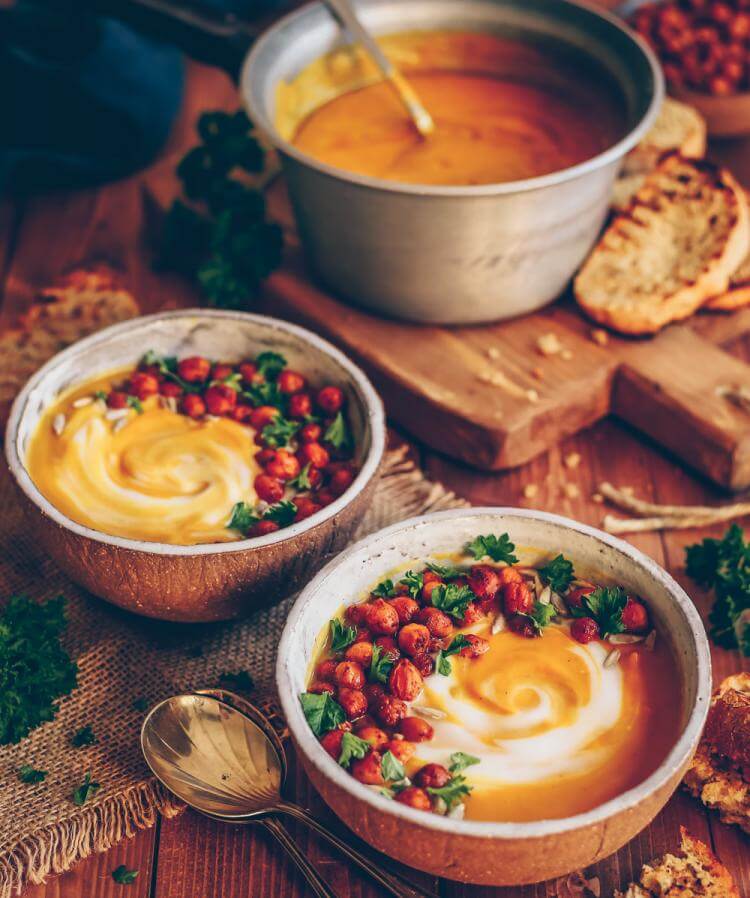 Method
Preheat oven to 200°C. Peel and chop the pumpkin into 5cm pieces. Peel and chop the onion in half. Pour over the olive oil and rub into the veggies until they are evenly covered.
Slice the top of the garlic off so that the cloves are slightly exposed. Wrap the garlic in foil and place onto a baking tray with the pumpkin and onion. Cook everything in the oven for 40 minutes, until starting to brown at the edges. Remove the garlic after 30 minutes and allow to cool for 10 minutes.
Add the roasted veg, four cloves of roasted garlic, chilli (if using) and cinnamon to a large saucepan. Add the vegetable stock, a pinch of salt and pepper, and simmer gently for 15 minutes.
Prepare the chickpeas by adding them, the spices, salt and pepper to a small roasting pan. Pour over the olive oil and use a spoon to mix everything well. Roast in the oven for 15-20 minutes, until the chickpeas are golden and crispy.
Remove the soup from the heat and transfer to a blender, or use a stick blender to process in the saucepan until smooth. Reheat the soup and taste test for seasoning, adding more salt and pepper if needed. Top the soup with roasted chickpeas, chopped parsley and a swirl of coconut yoghurt.