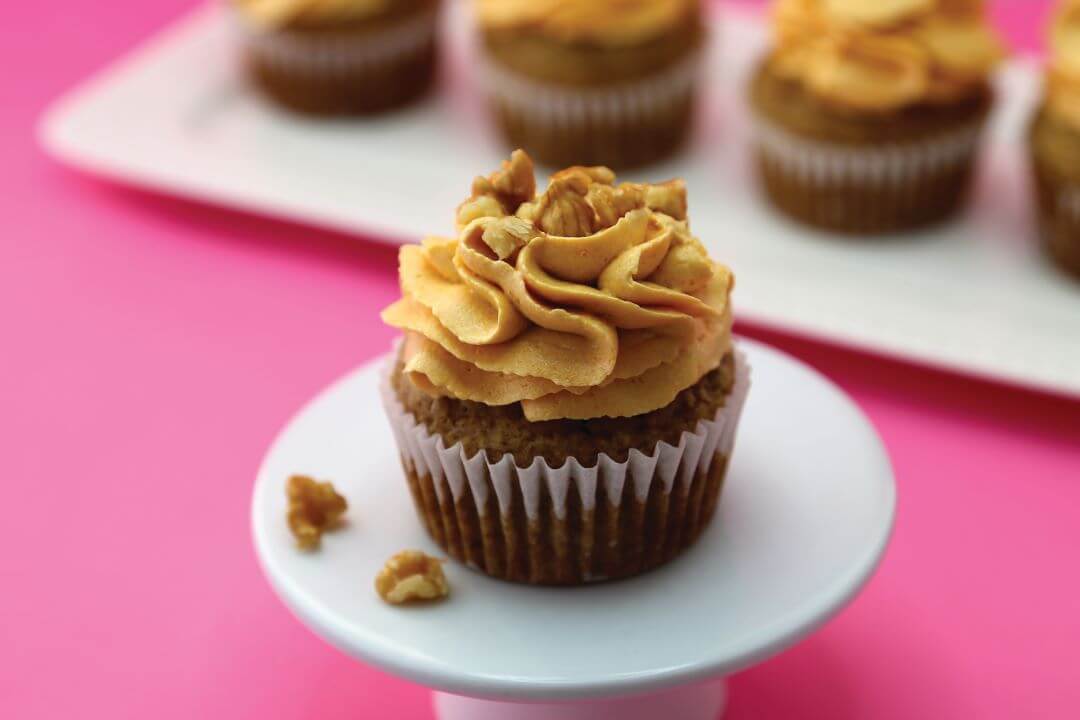 Ingredients
DRY INGREDIENTS
WET INGREDIENTS
EGG REPLACER
BUTTERCREAM
Method
Preheat the oven to 190°C. Line a 12-hole cupcake tin with cupcake cases.
Place the dates in a small bowl and cover in boiling water. Set aside.
Make the egg replacer by mixing the flaxseed with the boiling water. Set aside to thicken.
In a large mixing bowl, sieve all dry ingredients together and mix to combine.
In a large jug, mix the soy milk and vinegar together until it becomes thick. Then add the oil, vanilla, and caramel flavour (if using), and mix to combine. Add the thickened flax egg and mix through.
Drain the dates and add them to a blender along with all the mixed-together wet ingredients. Blend until completely smooth. Pour into the dry ingredient mixture and gently fold everything together with a whisk, until just combined.
Spoon the batter into each cupcake case, filling each about ¾ full. Place in the oven on the top rack and bake for 12–14 minutes. They are ready when the tops bounce back when pressed gently. Remove from oven and let the cupcakes cool.
Meanwhile, make the buttercream. Using a stand mixer with a paddle attachment, beat the butter on low for 5 minutes until light and smooth, using your spatula to scrape down the sides.
Add the chilled sweet potato and beat together until smooth. Then add the peanut butter, vanilla and stevia, and beat until fluffy, pausing the mixer every few minutes to scrape down the sides. If the mixture is curdling, chill in the fridge for 10–15 minutes and then beat until smooth.
Ice the cupcakes once they have completely cooled. You can further decorate with a sprinkle of chopped walnuts, if you like.