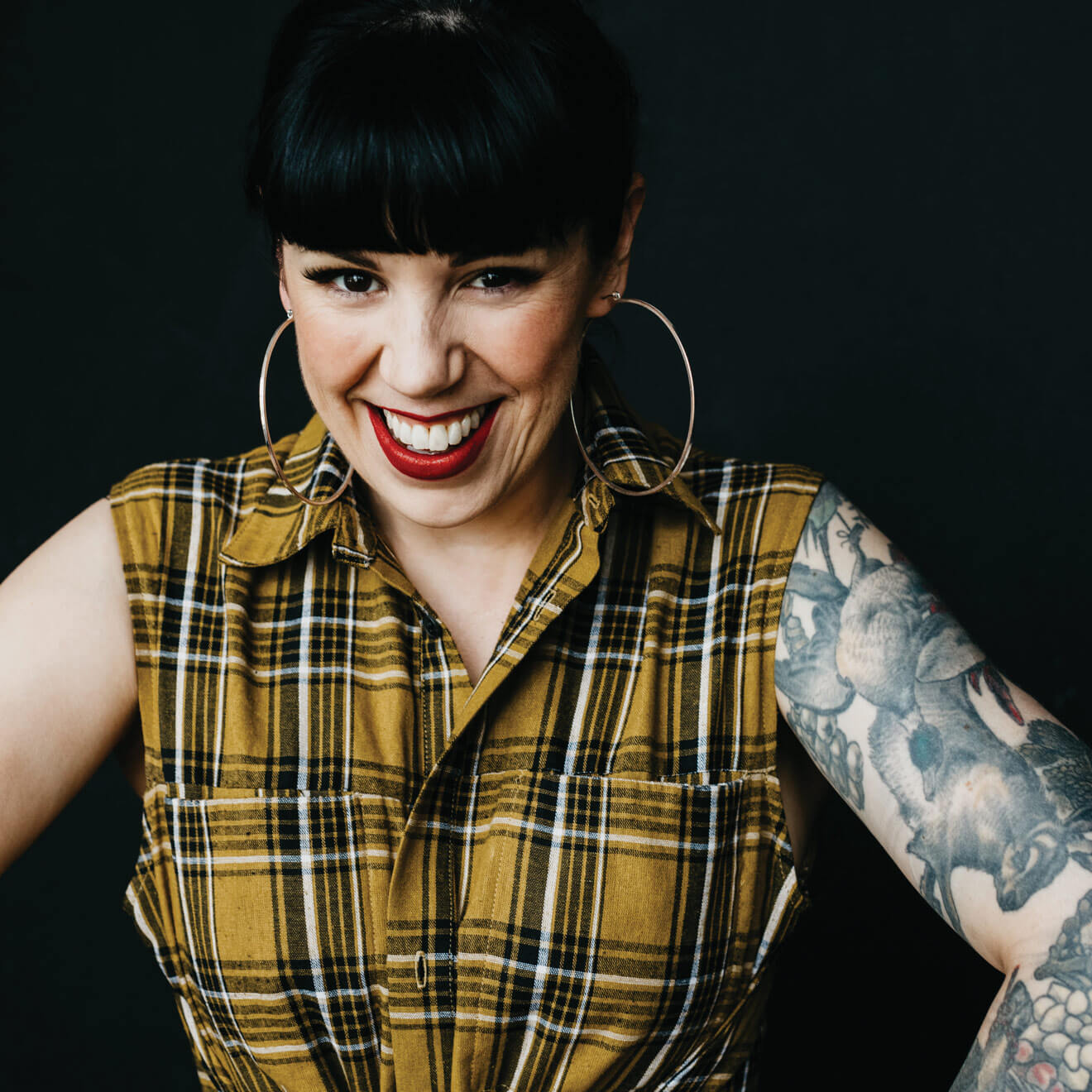 Meet Shannon Martinez, the creative force behind internationally renowned vegan brand Smith & Daughters. And why the heck does she eat meat?
Celebrity chef, creative genius, vegan trailblazer. These were not words anyone would think of using to describe Shannon Martinez when she was starting out about 15 years ago, and least of all herself. She didn't think she'd become the target of hate and online trolling for her efforts either. But this is the (upside-down) cross she has chosen to bear as a meat-eating vegan chef.
Shannon says her primary passion is food and cooking. When she first started creating vegan dishes, no one else was providing a dining experience for vegans that we have come to expect now. She says, "Vegans like to eat out as much as non-vegans, so it was really important for me at that time to focus on doing this as a chef. Just like some chefs will focus on seafood or steak houses, I wanted to focus on vegan food because it was a creative outlet, and it was filling a gap." Of course, many plant-based restaurants were around long before the now-iconic Smith & Daughters opened its doors, but arguably, none had appealed to the broader population of Melbourne in the way Shannon's food has.
Smith & Daughters opened its doors on bustling Brunswick Street in 2014 with an innovative menu, full of frighteningly realistic meaty dishes, with a Latino flair. They immediately attracted a cult-like following of vegans and meat-eaters alike, who also eagerly embraced Smith & Deli, which opened just one year later. Since then the New York style deli has expanded to incorporate a full range of vegan charcuterie, cheeses, dips and ready-made meals. In the meantime, Smith & Daughters relaunched with a new Italian-themed menu. Change is constant here, and in fact, this is what has driven Shannon since the beginning. "The idea of not knowing anything and starting from scratch was really fucking exciting to me. For a lot of chefs it's not because they build and build to become an expert at something. But for me it was like let's do something new and weird and figure out some cool stuff," she says.
"Me not being vegan has really helped non-vegans come to the restaurant and has opened their eyes to the food," she says. Make no mistake, Shannon isn't just cooking for vegans and says her target audience these days is the meat-eaters. "I want to change the preconceived notion that vegan food is shit. There is nothing better to convince a meateater that they don't need to eat meat every day than creating something that feels and tastes exactly like what they're used to." And in her mind, she simply could not do this if she were vegan. Shannon says, "If I was vegan, the flavours I'd create in my dishes would be different to the flavours I create as a non-vegan. Vegans might not even think to create the dishes I do, like the blood sausage we had on the menu a while back." People trying or transitioning to plant-based alternatives do have a different palate to longer-term vegans. Think about that first soy latte you ever tried. It was probably a fairly confronting taste, but in time … nectar of the gods! Palates and preferences change over time depending on what you become accustomed to, so she has a very valid point here.
"I use the ways I learned to cook things from the start, so traditional cooking and cheesemaking methods. I implement classic cooking techniques to vegan food and have learnt how to supplement ingredients. That was what took a long time, figuring out what worked. I also have done a lot of mistake making and experimenting." Shannon creates different seitan bases for different meat alternatives because, for example, turkey tastes nothing like ham and she takes great pride in her dishes being close replicas of the animal-based versions. She says, "One of my pet peeves is companies that take the piss out of vegans by calling something turkey (for example), when it's actually nothing like the real thing."
While Shannon shows immense respect for the vegan experience, the same courtesy has not always been returned to her. She says, "The amount of hate I have to deal with on a daily basis has taken me so close to closing it all down. It can be violent, abusive, and out of control. It's constant no matter what I do, and it's fucking exhausting. Sometimes I wonder if it's worth it." While Shannon understands that her becoming a poster child for veganism without fully committing to the lifestyle has seriously offended some people, she wishes those individuals would look at the bigger picture. "I'm not just doing this for vegans. I work 100 hours a week and people think I'm only doing this to profit off veganism. There's plenty of easier ways I could do that."
It makes you think that she must resonate with veganism in more ways than the opportunity for truly creative cooking. Shannon says, "If we're talking about veganism as a whole it's not just about animal rights, it's also about the environment, and that's what it is for me." Her ethics have changed the way she runs her own businesses over time too. Smith & Deli once sold an impressive range of vegan products from around the world but is now committed to lowering food miles. With vegan groceries no longer on offer, the deli focuses on making everything in-house from Australian products wherever possible, and the restaurant is no different. She says, "Apart from feeding people, I think restaurants need to become more sustainable. Running restaurants that are purely protein based now is ridiculous. They need to move forward and realise not everyone wants that anymore and we may not be able to provide the protein to continue doing that anyway."
Shannon's knowledge of the environmental impact of raising animals for food could rival that of most vegan activists. "I watch all the documentaries, I've been to farms and slaughterhouses, I've seen the worst of it. I make educated choices. I know what I'm doing and the impact of that." It's always fascinated me when I hear of people who understand the ethics, but don't commit to the change themselves. When I put this to Shannon she says, "As the years go on, it sits worse and worse with me, but I think this is happening to everyone. I'm an arsehole for eating meat. I know this but it's a part of my life that is based on food and cheffing. I do wonder when the day will come that this changes though." In the meantime, she's using her brand and celebrity status to influence and inspire diners and restaurants the world over.
"If I can convince a meat-eater to eat even one vegan meal a day, the impact of that is huge. I want to change the way people eat at home, make it easier for them," she says. This is one of the reasons Smith & Deli started offering ready-made meals that people can take home. Shannon knows vegans want and need convenience as much as anyone else, just as she knows restaurants want and need to see the value in catering to the growing plant-based market. She says, "If I'm going to take my brand somewhere, I want it to have an impact. That might be to influence a restaurateur to put a vegan option on their menu when they may have been sceptical about doing so before. I don't care if they are into the ethics of it all, I just want them to put vegan options on."
When you consider Shannon's two businesses, she has already trained about 30 to 40 chefs and cooks, who have gone on to work in other restaurants with a completely different outlook on food, influencing menus wherever they go. It wasn't all that long ago that there were only a handful of plant-based restaurants in the Melbourne vegan scene. Now, there are well over 200 options in a thriving vegan metropolis. I can't help but credit some of this to Shannon's dedication to taking veganism mainstream – and making it uber-cool at the same time (in that lowkey, not-trying-to-be-cool-but-I-just-am way that Melbournites have). I wonder how our unlikely vegan poster child feels about leaving a legacy like this. She almost sheepishly says, "What more could anyone want, I guess. What's the point of being here if you don't leave something positive? This change needs to happen. People need to have their eyes opened to the fact that vegan food can be fucking epic."
SHANNON'S FAVES
EATING: Szechuan food – Mapo tofu is a fave.
DRINKING: Coffee.
READING: Cookbooks. I love them.
LISTENING TO: The latest Marilyn Manson song. He's still my favourite.
WATCHING: The Boys.
WEARING: All black with boots. Typical Melbourne.
TATTOO: Nancy from The Craft on my thigh.
PLACE TO BE: Spain, but my heart is in Melbourne, I love it so much.
LITTLE-KNOWN FACT: I was the bass player in the goth industrial band, Voltera. I'm also a classical violinist.
RELAXING: Cooking at home without time pressure.
BEST TIP FOR A LIFE WELL-LIVED: Make your job your passion.