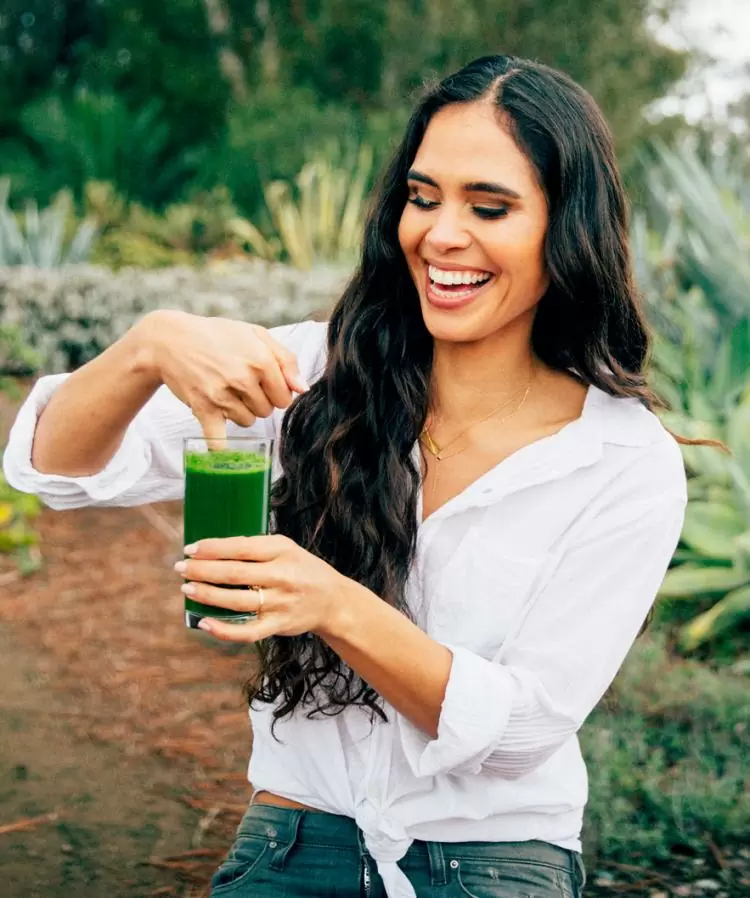 We caught up with the celebrity nutritionist and best-selling health author to chat about her daily vegan eats.
Kimberly Snyder is a nutritionist and best-selling health author whose unique teachings on the symbiotic relationship between nutrition, digestion and beauty have gained worldwide recognition. She's penned multiple New York Times best-selling books including The Beauty Detox Solution, The Beauty Detox Foods, The Beauty Detox Power and Radical Beauty. She has a top-rated podcast titled Beauty Inside Out, where she chats about all things health, nutrition, wellness, yoga and spirituality.
With her clear skin, radiant complexion and abundance of energy, Kimberly is the walking embodiment of her philosophy on health, which is all about abundance, not restriction. She believes that eating a plant-based diet can quite literally help us shine and believe that everyone should eat more greens.
Here's a little insight into Kimberly's typical day on a plate.
BREAKFAST
I start every morning with hot water with lemon. I also religiously take two of my SBO Probiotics. The first thing in my body is my Glowing Green Smoothie.
MORNING SNACK
By mid-morning, I eat more fruit or a gluten-free avocado and sprout wrap.
LUNCH
For lunch, I'll have a big stew or a stir-fry, or a big salad with organic tempeh.
MID-AFTERNOON
I have a power protein smoothie, made with unsweetened almond milk, soaked chia seeds, plant-based sprouted protein, acai, banana, bee pollen and maca or spirulina.
DINNER
Dinner varies, but there is always a raw, enzyme and fibre-filled salad component to start off the meal. If I'm home, I'll make one of my recipes – usually one of the more simple ones – or just bake some mushrooms and veggies and throw them on a salad and call it a day.
BEFORE BED
At night, I love to sip on my Nourish Your Nervous System Elixir, which is a mix of almond milk, cardamom, saffron and some raw honey or coconut nectar.
Glowing Green Smoothie ®
Serves: 1
Ingredients
7 cups chopped spinach (about a medium bunch)
6 cups chopped romaine lettuce (about 1 small head)
2 cups cold filtered water
1½ cups chopped celery (about 2 medium stalks)
1 medium apple, cored and coarsely chopped
1 medium pear, cored and coarsely chopped
½ cup minced fresh coriander, optional
½ cup minced fresh parsley, optional
1 medium banana, peeled and cut in thirds
2 tbsps freshly squeezed lemon juice
ice, optional
Method
Combine the spinach, romaine and water in a blender and begin processing on low. Gradually move to higher speeds and blend until smooth.
Next, add the celery, apple, and pear, and the coriander and parsley (if using). Lastly, add the banana, lemon juice and ice (if using), and blend until smooth. Serve at once or refrigerate, covered, for up to 2½- 3 days.