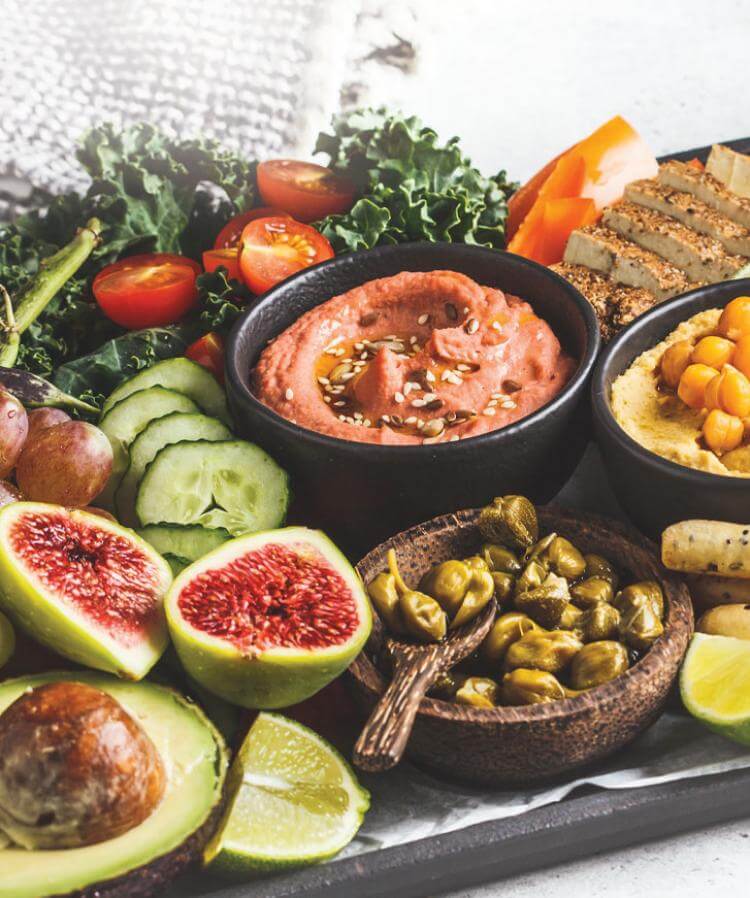 You can enjoy everything the holiday season has to offer without compromising all your healthy habits. Find balance with these healthier holiday swaps.
For many people, the holiday season is a time of social gatherings and indulgent meals. From champagne breakfasts to grazing platters and big banquets to rich desserts, it can start in early summer and last well into the new year! There is something about Christmas that makes us want to celebrate with our people and spoil ourselves with food and drink – hey, we've earnt it! But it doesn't have to be an extravaganza of unhealthy eating that you'll pay the price for later. I have some simple healthy swaps to help you enjoy your holidays while still feeling healthy and happy once the party's over. No post-Christmas detox needed for once!
CREATE HEALTHY GRAZING PLATTERS
Swap processed crackers and energy-dense vegan cheeses for a healthier plant-based grazing platter. Start with fresh vegan dips such as hummus, guacamole, and coconut yogurt mixed with curry powder (homemade is always best). For dipping, cut up lots of fresh vegetables such as celery, carrot, capsicum, and raw broccoli. For crackers, I like to make my own flax crackers instead of buying oily corn chips. Next, add fresh fruit for a sweet hit. The more colours the better! Olives and dried fruits, such as apricots and figs are also perfect for tasty platters.
SERVE BEAUTIFUL SALADS
Summer is the best time of the year to enjoy big salads as a main meal and can balance out all those heavier dinners during the holiday season. Think about adding cooked grains, legumes, a few seeds and nuts, and a lot of colourful vegetables for all the plant-based protein you need. You can also add some summer fruits like mangoes, cherries, cranberries and pomegranate seeds. Make sure plenty of fresh, delicious salads feature among your Christmas lunch dishes, like the broccolini salad I've created for you.
GO FOR EVENING WALKS
All year long we talk about how much we miss the warm weather and long summer evenings, so swap out time in front of the TV for a healthier ritual of a long evening stroll. As the sun sets and the temperature goes down after a hot summer's day, you'll relish a twilight hour in the outdoors. Meet up with friends, family members, or just explore your neighbourhood while listening to a good podcast.
ENJOY SUMMER FRUITS
At a time of year when rich desserts feature regularly, swap out a couple of these for fresh summer fruit platters. I am a big fruit eater and look forward to summer all year long so I can enjoy in-season summer fruits like mangoes, stone fruits, cherries, berries and more. We really are 'the lucky country' when it comes to fresh, local produce – and it would be a shame not to take advantage of this. One way to stay healthy over the holiday season is to fill your fridge with seasonal fruit and create beautiful fruit platters to share with loved ones. It's a much better option for snacking than some of the traditional sweet treats.
DRINK KOMBUCHA INSTEAD OF ALCOHOL
While alcohol can be enjoyable in moderation, we often consume a little too much over the holidays – and no one likes a hangover. Alcohol brings absolutely no nutrients to your diet and can add plenty of extra calories, particularly if you indulge in more than one or two drinks. I have found kombuchas to be a great sparkly swap for a celebration drink. Also, no one will notice your healthier option if you feel self-conscious about not drinking alcohol at a gathering.
QUALITY OVER QUANTITY
This swap is particularly applicable when it comes to desserts and chocolate. Treat yourself and your loved ones to a few quality dark chocolates over lots of lower quality chocolates. Chocolate does contain health benefits when made with high quality dark cacao or raw cacao with minimally processed ingredients. Cacao is a great source of polyphenols, antioxidants and magnesium. I also find very dark chocolate a lot more satisfying than sugary milk chocolates, so I only need a little bit.
HOMEMADE OVER STORE-BOUGHT
If you feel like eating baked goods, why not try swapping store bought treats that are filled with sugar, white flour and vegetable oil for homemade versions with wholesome ingredients, such as cacao, coconut sugar, maple syrup and wholemeal or spelt flour. Same indulgence, less guilt! Also, making raw treats is perfect in summer as it saves you from turning the oven on. I've created a raw cheesecake for you, which will be a show-stopper dessert on your Christmas table. This is a delicious, creamy plant-based dessert that combines quality cacao and in season cherries.
WHOLE FOODS OVER PROCESSED FOODS
It's a great time for the vegan community with a lot more options popping up in the major supermarkets. However, most of these foods are quite heavily processed and high in vegetable oils, sugar or salt. While they have their place in a balanced vegan diet, you'll get more health benefits from whole plant foods than you will from vegan meat or cheese alternatives and other ready-made meals. Filling up on vegetables, fruits, legumes and wholegrains will put you in good stead for maintaining your health over the holiday season.
We all deserve to indulge ourselves over the holidays, but that doesn't have to mean throwing our healthy lifestyles out the window. And keeping a healthy balance doesn't mean missing out either. Even if you are the only vegan at the table, take a nutritious, delicious and filling dish to share with your friends or family – you may just open some minds to the pleasure of plant-based living.