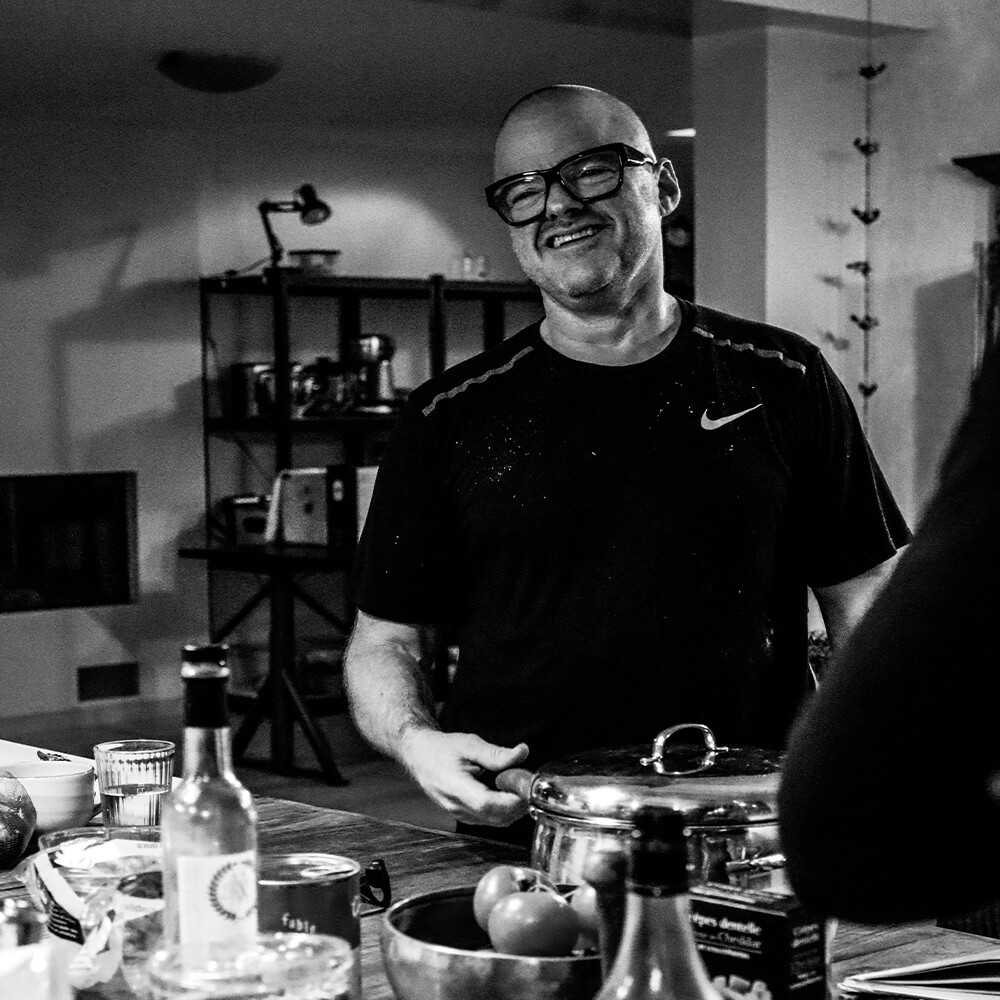 It turns out the world's most famous chef-cum-scientist has been experimenting with plants for years. Here's what he had to say when we asked him about the growing shift towards plant-based foods.
Ever the modernist when it comes to food, world-renowned chef Heston Blumenthal rose to fame as a pioneer of molecular gastronomy, flavour encapsulation, and multisensory cooking … and now, he's experimenting with plant-based dishes.
We asked Heston what it is about plants that inspires him. "Over the years, when the team and I created our flavour-pairing concept, we found that a lot of the flavour molecules we were looking at were present in plants. Hexanols, for example, are all associated with green plants and are present in cut grass to basil, kiwi fruit to apples. So, our flavour-pairing work was very focused on plant-based dishes," he says.
Heston's exploration into flavour pairing uncovered some unusual combos that work because they share flavour compounds or primary aroma components. We're talking bananas and parsley, caramelised cauliflower and cocoa, harissa and dried apricot, and plenty of even more perplexing non-plant-based pairings. With a personal motto of 'question everything', he has certainly lived this philosophy when it comes to food in a number of ways. I mean, we may never have seen liquid nitrogen become commonly used in commercial kitchens without Heston leading the way.
Then there's his most well-known multisensory dish, 'Sound of the Sea', which was designed to transport diners to the beach. Ingredients such as dried kelp, hijiki seaweed, and a number of sea creatures we won't mention here are served to look like a seashore, complete with edible sand and sea foam. An iPod in a conch shell even plays the sounds of waves and seagulls. It all makes you wonder whether Heston goes to work in a science lab or a kitchen. Perhaps plants offer a return to simplicity, to the way things always were.
He says, "Plants are living things that absorb energy from our planet, both from above and below the ground, and they give great opportunities for creativity. If you take a cauliflower, for example, you can steam it, roast it, puree it, grate it raw – you can bring out so many different characteristics of the vegetable. You don't have to put 100 different ingredients on a plate to make an impact. By zooming in on one ingredient you can explore its potential in a very unique way."
When asked what his favourite vegetable is, he is not keen to choose just one, although concedes that potatoes and onions are the most versatile. He explains, "To have a favourite is like asking if I prefer pommes puree to mashed potatoes or triple-cooked chips to roast potatoes. It's akin to comparing a leek and potato soup to a baked potato, it's impossible to choose. That's one of the beautiful things about food and eating."
Let's also remember for a moment that way back in the 90s when the vegan option often meant a side dish of hot chips, Heston invented triple-cooked chips. The convoluted process involves simmering, cooling, sous-vide cooking, deep-frying at a low temperature, cooling again, then deep-frying at a higher temperature … phew!
To quote his cookbook, The Big Fat Duck, Heston said the result is "chips with a glass-like crust and a soft, fluffy centre". Perhaps vegans can best appreciate this reverence for and elevation of our humble hot chippies. After all, they're practically a food group!
While Heston certainly isn't vegan, he is responding to the growing popularity of plant-based foods and increasing concerns about the health and environmental implications of dietary choice. "The palate of the British diner has grown much more adventurous, whereas in the past maybe the idea of vegetables was just a steaming bowl of mixed veg. Nowadays people are more open to the idea of vegetables being centre stage. For me, they have always been important, but now our customers are more open to appreciating the vegetable as the main event," he says. And it's not just vegetables that Heston is heroing in his restaurants – alternative meats are also getting a run. He has chosen to feature Fable in his Michelin star restaurant, The Hind's Head, not only for its quality and versatility, but also because he believes in the health benefits and medicinal power of mushrooms, which the product is made from. He says, "I have eaten many thousands of ingredients in my career and it's not often that one comes along that knocks your socks off!"
He goes on to say, "There has been an explosion of knowledge around vegetarian cooking, so the options are much wider now along with the development of meat replacement products. The quality of these has risen hugely and, for some, like Fable, it is a bit insulting for it to be simply called a replacement food … they are just great ingredients on their own."
It's not only increasing demand that has Heston thinking about how and what we eat. Since his ADHD diagnosis in 2016, he has used mindfulness to support his own health and wellbeing, and this approach has got him thinking about eating more mindfully, too. He says, "We simply don't need to eat the amount of meat that we do – that's a fact. Our diets have evolved at a much faster pace than our biology, so our access to once much-harder-to-come-by things, like meat, has gotten exponentially easier. However, our digestive system still views meat as a rare treat from our hunter-gatherer origins, so increasing our intake of plant-based and meatless meals helps us bring back a balance to our lives."
The balance he mentions doesn't just refer to individuals, but to global food issues as well. "There are lots of people doing lots of valuable things to address this imbalance across the planet, and I believe that if we all eat more mindfully, then we can each make a huge impact … leaving more for others. It's just unacceptable that there are people in the world today who do not have easy access to food whilst many of us have overloaded fridges and throw much of it away."
He continues, "There is also an impact to the overall environment in the production of meat, but I think it's important that we also look at the impact meat replacement foods have too. It's not as simple as just eating less meat to save the planet. Every action we take has a consequence and we all have a responsibility firstly to ourselves to be healthy, but then also to the wider ecosystem to try and leave a smaller imprint."
More and more chefs are rethinking the role of plant-based foods on their menus, and when heavy-hitters like Heston are making changes, the industry takes notice. Not only a thought leader but also often at the forefront of innovation, world renowned, and with three Michelin stars – others are sure to follow. And the more chefs put plants at the centre of the plate, the more it'll become the norm. And who doesn't need more incredible plant-based creations in their life?