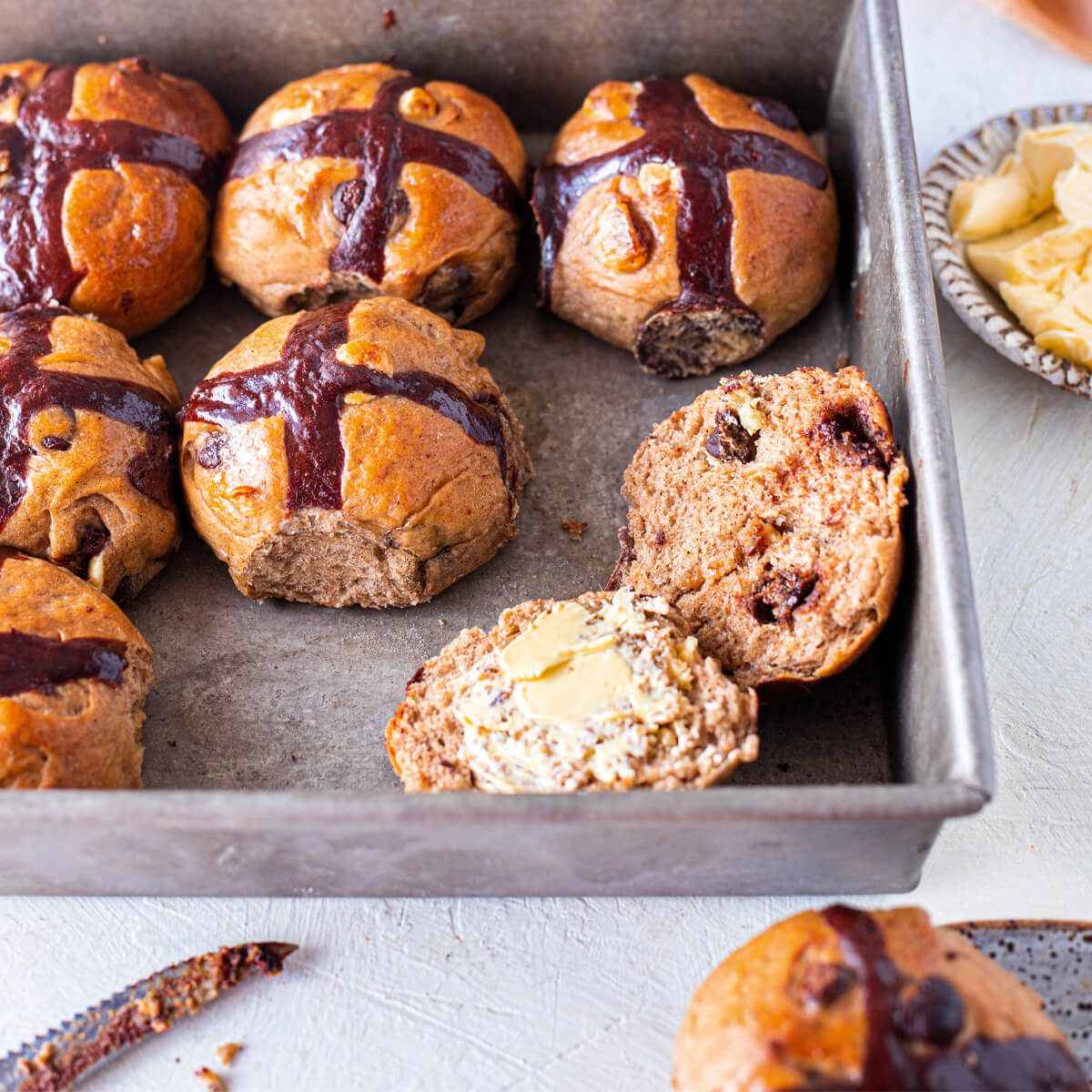 Ingredients
BUN DOUGH
CROSSES
GLAZE
Method
Combine all of the dough ingredients except the chocolate chips in a large bowl and mix until it comes together. Then, knead until it forms a smooth dough. If you have a stand mixer, you can do this using the dough hook.
Add the chocolate chips and knead them in. It may look like a lot of chocolate chips at this point, but the dough will expand and you might want even more chocolate! Cover the dough with a tea towel (either in the bowl or stand mixer) and leave in a warm place to rise for at least 1 hour, or until the dough doubles in size.
Divide the dough into 12 equal parts and roll each into a ball making sure the top is smooth. Place the buns into a rectangular or circular greased and lined baking tray, leaving about 3cm between each bun. Place a damp tea towel over the buns and set them aside to rise for at least 1 hour.
When you are ready to bake the buns, preheat the oven to 180°C.
To make the crosses, add all the cross ingredients to a small bowl and mix to form a paste. Spoon the paste into a piping bag with a small round nozzle. Pipe crosses onto the buns and then bake in the oven for 15–20 minutes, or until they are slightly golden-brown.
To make the glaze, add the syrup (or sugar) and water to a small saucepan and bring to a gentle simmer. When the buns come out of the oven, brush them with the glaze. These are best eaten the day they are baked, otherwise, store in an airtight container at room temperature for 1–2 days.