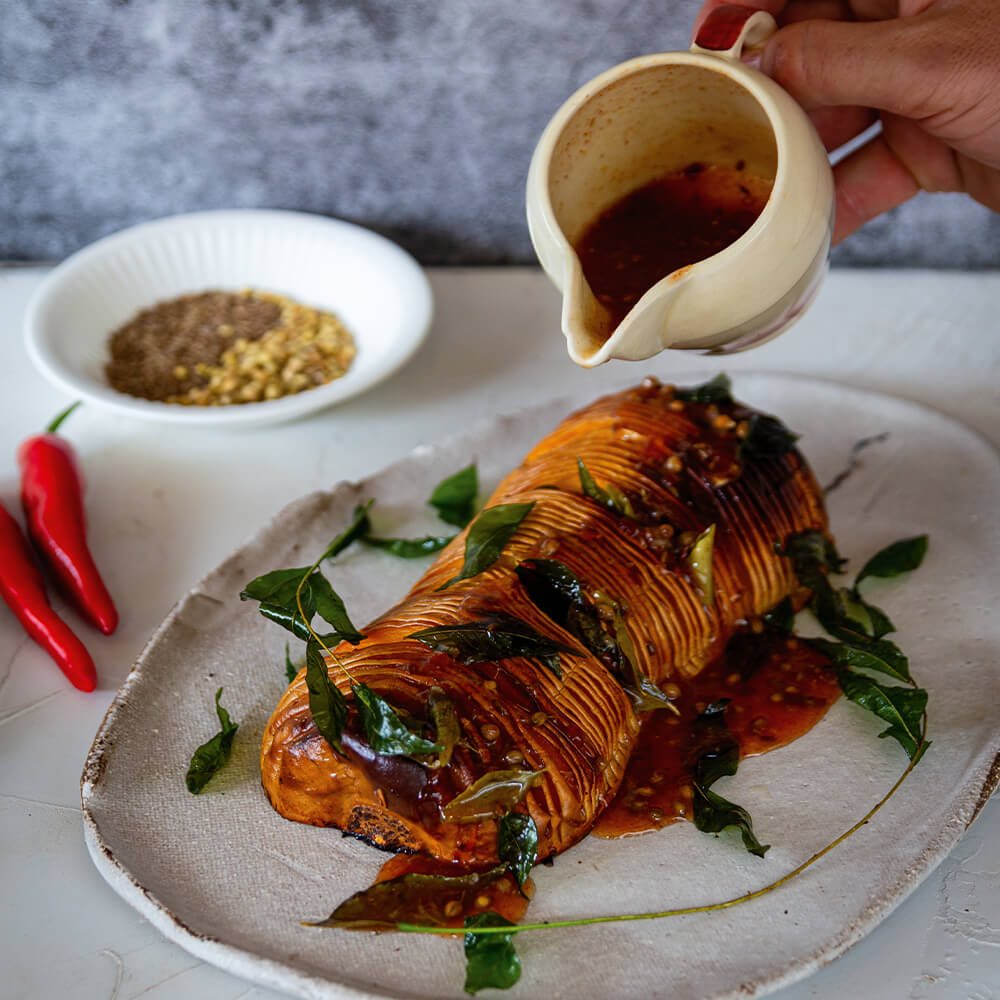 Method
Preheat the oven to 180°C.
Cut the butternut pumpkin in half lengthways and remove the seeds. You can remove the skin if you like, but we leave it on to reduce waste and provide a delicious chewiness and crunch.
Place 1 half cut side down on a chopping board. Place chopsticks along both sides of the pumpkin (this is to prevent you from cutting all the way through). Use a sharp knife to cut thin slices across the pumpkin, stopping when your knife hits the chopsticks. Cut slices along the length of the pumpkin, then repeat the process for the other half. Place the pumpkin halves onto trays lined with baking paper. Rub a little vegetable oil over each half, then bake in the oven for approximately 45 minutes.
In the meantime, make the sweet chilli sauce. Finely dice the long red chillies and mince the ginger and garlic. Place in a frying pan with 2 tbsp of oil and cook over medium heat for 5 minutes. Add the ground cumin, cumin seeds, and coriander seeds to the pan along with the brown sugar and 10 of the curry leaves.
Next, add in 300ml of water and cook for 20 minutes, or until everything is lovely and fragrant. Add the vinegar for a bit of freshness at the end. Season with salt and pepper to taste, taking care not to add too much.
In a small bowl, stir a little water into the cornflour to make a slurry. Pour the slurry into the frying pan and stir until the sauce thickens. Continue to cook for a few minutes to cook out the taste of the flour.
In a separate frying pan, bring the oil to smoking temperature and then drop in the remaining curry leaves. Be careful as they will start to spit. Remove with a slotted spoon or tongs after 15 seconds and put on paper towel to drain.
 Place the baked pumpkin onto a serving plate and pour over the sweet chilli sauce, topping with the fried curry leaves. Serve with cooked rice or grain of choice.