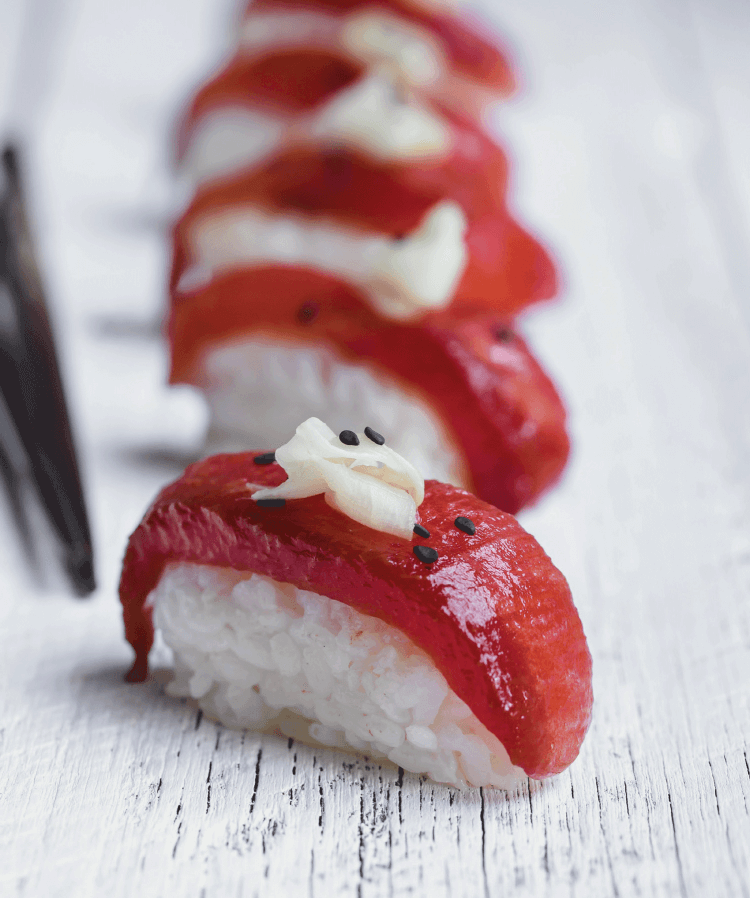 Ingredients
WATERMELON SUSHI
MARINADE
SUSHI RICE
Method
Preheat oven to 180°C.
For the watermelon sushi, cut two 10 x 2½cm blocks from the fruit without the skin. Add 2 tbsp of sunflower oil to an ovenproof dish and place the watermelon blocks in this. Drizzle with the remaining 1 tbsp of oil and bake in the oven for 20 minutes. Remove from the oven to turn the watermelon over before returning it to bake for another 10 minutes, watching to make sure it doesn't brown. Remove from the oven to cool slightly.
Meanwhile, combine the tamari, mirin, sesame oil and rice vinegar in a small bowl. When the watermelon has cooled slightly, pour the marinade over the top, cover with foil and sit it for 20 minutes before placing it in the fridge for at least 1 hour (or overnight).
To prepare the rice, rinse it under cold water in a strainer until the water runs clear. Drain well and transfer to a heavy-bottomed medium saucepan. Add the cold water and bring it to a boil over medium to high heat. Reduce heat to low and cook, covered, until the water is absorbed and the rice is just tender – around 15 minutes. Remove from the heat and allow to stand, covered, for 10 minutes.
Transfer the rice to a glass bowl. Combine the rice vinegar, sugar and salt in a separate bowl and stir until the sugar dissolves. While gently tossing the rice, add the vinegar mixture and stir through. Cover the rice with a clean, damp cloth and cool to room temperature.
To assemble the sushi, form a handful of the sushi rice into a 5cm log and repeat with the remaining rice. Take the marinated watermelon and slice it on an angle to mimic tuna sushi before laying it over the rice. Top with pickled ginger to serve.