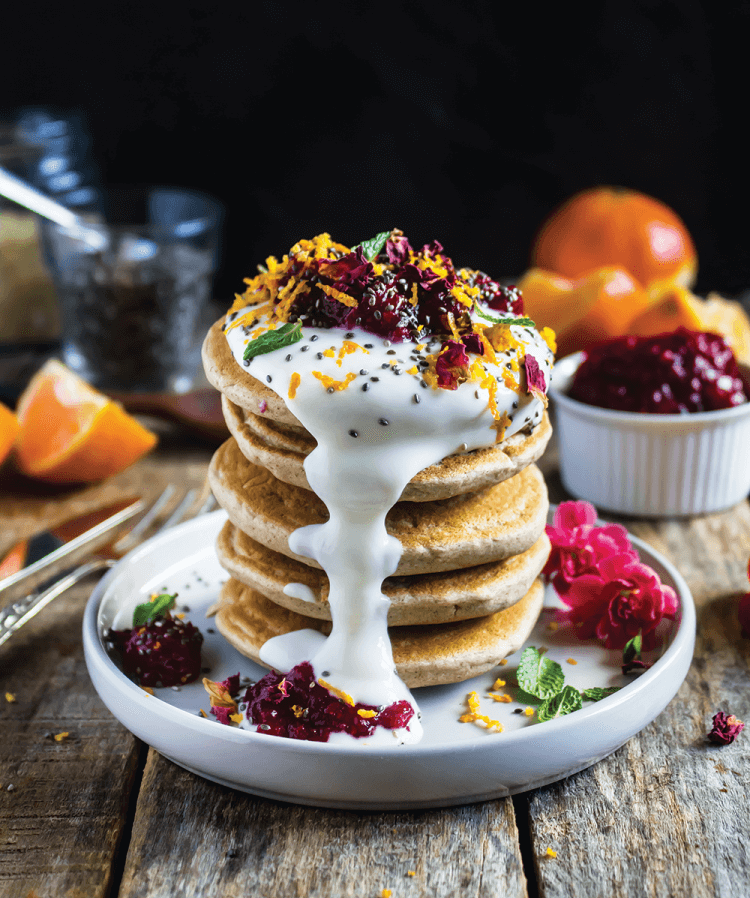 Ingredients
For the pancakes:
For the sauce:
Method
Whisk together all the pancake batter ingredients and set to one said for 5 minutes. The batter will be quite thick, but still pourable.
Heat a non-stick pan over a medium heat. Lightly grease with coconut oil or spray oil.
Cook 2-2½ tbsp batter per pancake in the pan, depending on how many you would like to make and the desired size. Spread the batter a little bit with your spoon.
Allow to cook for 3 minutes, carefully flip and cook for 2 minutes more. Alternatively, place the pan under a preheated grill and cook for 1 minute. Return to the stove top and flip with more ease.
Allow to cook for a further 1 minute.
For the cranberry sauce, place all the ingredients in a small pot. Bring to the boil, allow to simmer for 5 minutes and then blend, leaving as little or as many chunks as desired. The cranberry sauce can be made in advance and will keep in the fridge for up to 3 days.
Serve the pancakes topped with dairy-free yoghurt, cranberry sauce, orange zest, whole chia seeds and a little mint for freshness!