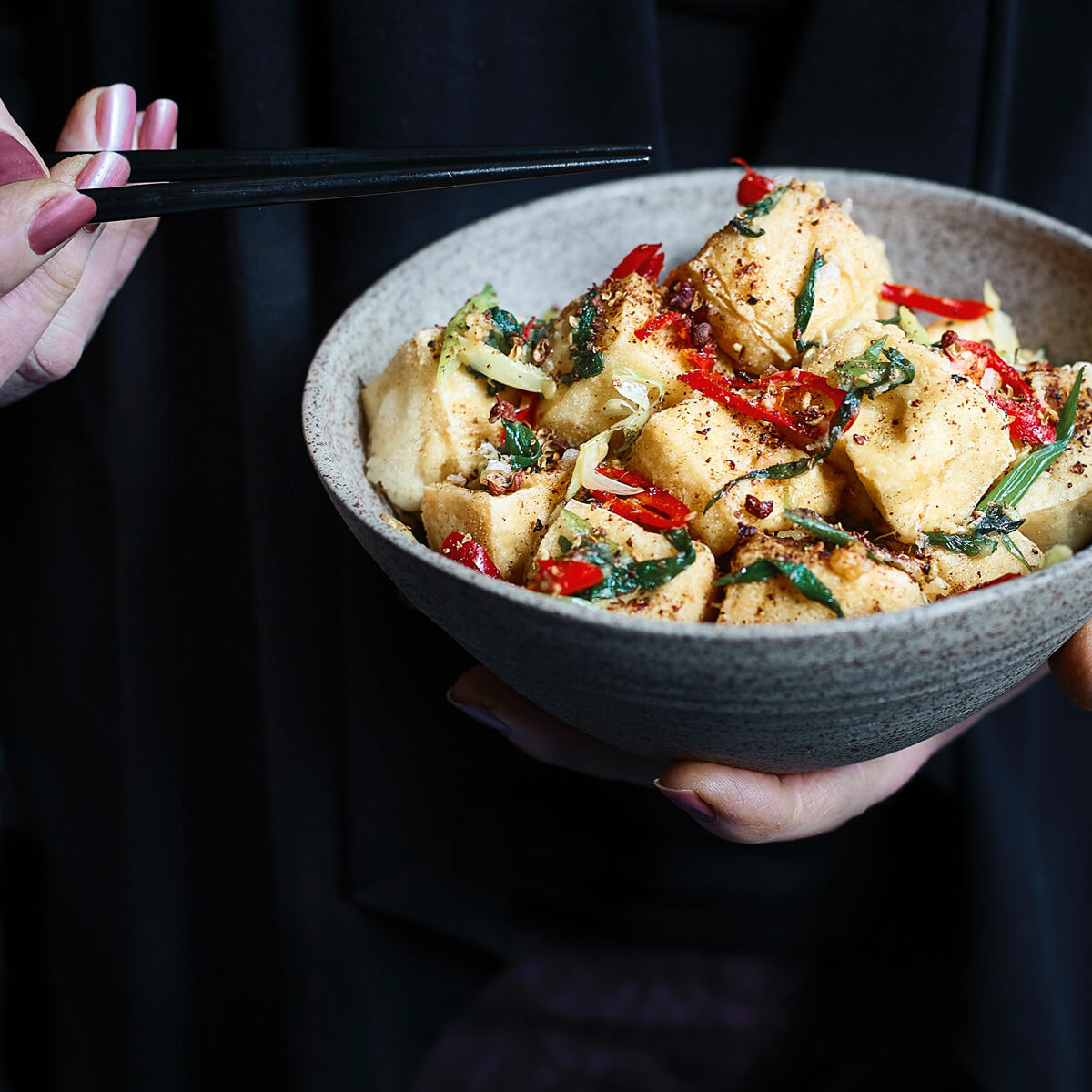 Ingredients
GARNISH
TO SERVE
Method
To get the best result, first press the excess water out of the tofu. Remove the tofu from the packet and drain, then put onto a plate. Cover with another plate, then place a weight on top and leave to sit for 20 minutes.
Meanwhile, prepare the garnish. In a small frying pan, heat the sesame oil and rice bran oil. Add the chopped chillies, garlic, and spring onions. Cook for about 5 minutes over a medium heat, stirring, until the onions have softened and the garlic has turned golden. Set aside.
To prepare the tofu coating, combine the cornflour, white pepper, salt, and garlic salt in a bowl and give it a good mix to combine.
Remove the weight and plate from the tofu and drain. Cut the drained tofu into bite-size triangles and gently place a few pieces at a time into the salt and pepper flour mix, coating all sides. Repeat with the remaining tofu.
In a large frying pan, add rice bran oil to a depth of 1½–2cm and place over a medium-high heat.
When the oil is hot, drop tofu pieces gently into the hot oil. Fry until the tofu is crispy and a pale golden colour on all sides.
Place the cooked tofu in a bowl and sprinkle with the prepared garnish and a generous pinch of Szechuan pepper. Serve straight away along with steamed rice and soy sauce, on the side.
This is an edited extract from Kindness Community Vegan  Cookbook by Edgar's Mission. Recipe by Lisa Perkins, photography by Julie Renouf, published by Affirm Press.