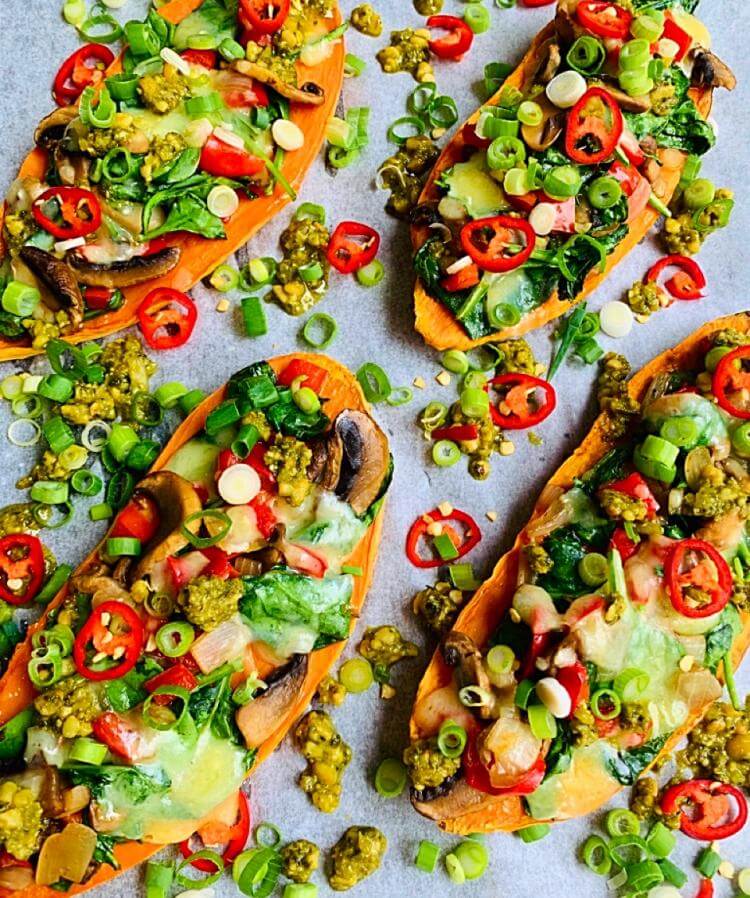 This recipe is from Eat Well Live Well: Organic Pant-based Wholefoods by Rebecca'h Pescarini Walker, published by Conscious Lifestyler.
Method
Wash and trim the sweet potato and cut into 4 long thick slices. Place them onto a paper lined baking tray and bake in the oven at 180⁰C for 5 minutes on each side until slightly golden (don't overcook the sweet potato or it will fall apart.)
Finely slice the mushrooms, sun-dried tomatoes, olives and spring onions. In a small pan, sauté the mushrooms and spinach in olive oil until golden and tender.
Top the sweet potato bases with the sautéed mushroom and spinach, sun-dried tomatoes, olives and shredded cheese.
Bake in the oven for a further 3–5 minutes until the cheese has melted.
While the sweet potato pizzas are baking, make the pesto by placing all the ingredients into a blender and pulsing for 30–60 seconds until all of the ingredients have come together and a course texture is achieved.
Remove pizzas from the oven and drizzle with basil pesto and spring onion. Serve hot.