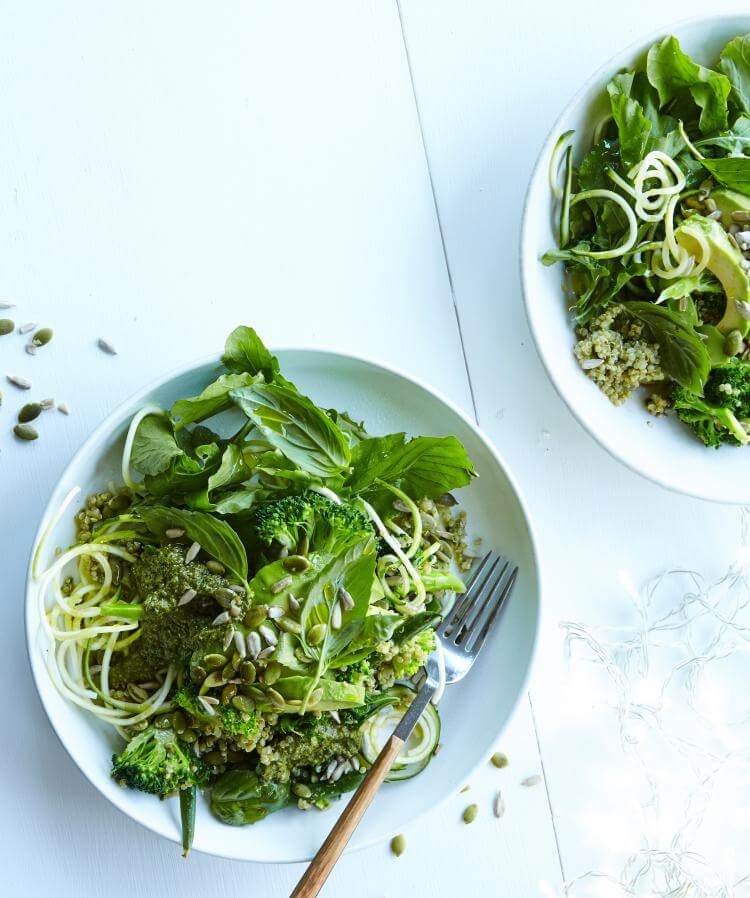 Method
Fill a medium saucepan with water and bring to a boil.
Add kale to water for approx. 30 seconds.
Remove from boiling water and place in a bowl of iced water.
Add broccoli to boiling water and allow to boil for 1 minute or until just tender. Remove and add to iced water.
Place beans in boiling water for 30 seconds. Remove and add to the bowl of iced water.
Drain vegies, chop kale and beans and set aside.
Divide rocket and zucchini in 2 serving bowls. Drizzle with olive oil and salt (optional).
Heat coconut oil in a large frypan over medium heat.
Add pesto and spread over pan.
Add shredded zucchini, stirring.
Add kale to pan.
Add an extra teaspoon or more of coconut oil before adding broccoli and beans. Stir briefly.
Add quinoa and lemon juice, stir through the vegies and remove from heat.
Divide mix between the two serving bowls.
Top with sliced avocado, hemp seeds, pepitas, spring onion and serve with basil leaves and an extra wedge of lemon.
Sprinkle with some salt and pepper and enjoy.
* You can use store-bought pesto or find my 5-minute dairy-free pesto recipe on the Hippie Lane app.
Origianlly posted on Australian Natural Health on 12/04/2017