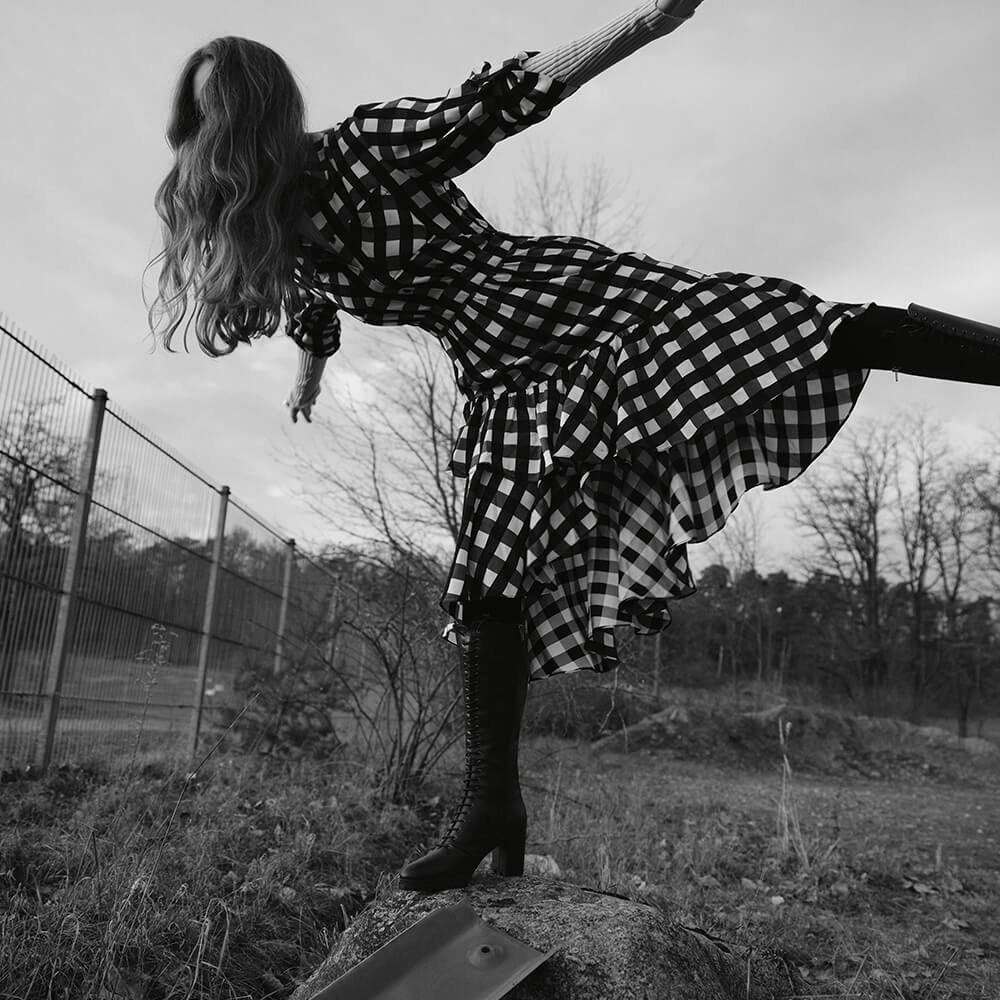 You don't need to pass on stylish winter boots when choosing more ethical shoes. Meet the brands making footwear that's as chic as it is conscious.
Vegan shoes are an unstoppable trend – research shows demand for animal-free footwear continues to grow every day. Shoes are a big part of the booming vegan fashion market for a good reason: most non-vegan shoes are made from leather, a trade falling out of favour as its links to climate change, pollution, and other forms of environmental damage become clearer. Because it is part of animal agriculture, leather is a significant contributor to global warming and a major villain when it comes to fashion's role in the climate crisis. And let's not forget that leather is also an industry that takes around one billion animal lives every year.
So, how do we find the hottest pair of vegan boots this year? Basically, we can check the label (just like we often do for food!). Aside from the words leather and synthetic, you might find symbols on the labels of shoes to let you know what they are made from. If you see a symbol shaped like a cowhide, that symbolises animal leather, whereas a symbol that looks like a diamond or a net indicates the material is human made or synthetic, which is often vegan.
However, leather isn't the only thing to be wary of when shoe shopping: footwear can also contain components that are derived from animals, such as glues. At times, the brand making the shoes is unable to guarantee that glues are vegan, so you'll need to look out for vegan certification labels, such as the PETA-Approved Vegan logo. If a shoe carries a trusted vegan certification, you can be sure the shoes are free from any animal-derived substance.
As we discover the animal cruelty and environmental destruction involved in the leather trade, choosing vegan becomes a no-brainer. And thankfully, fashion lovers no longer have to choose between wearing a cow's skin or frumpy 'functional' footwear – today's vegan fashion brands are as conscious of style as they are of ethics, offering chic designs that are coveted for both qualities.
BEAUTIFUL BOOTS
TAYLOR + THOMAS
If you worry that vegan fashion means sacrificing style for sustainability, this brand's edgy designs will put your mind at ease. The designer duo from Los Angeles, Jessica Taylor Mead and Elizabeth Thomas James, met in a shoe design class and were united by their interest in ethics and passion for inspired styling. The former stylists went on to create a collection of 60s-inspired designs with attitude – from snake print to poppy colours, this is one range of boots that will never disappoint. taylorandthomasla.com
BEYOND SKIN
Pioneering vegan fashion brand Beyond Skin has been creating leather-free shoes with the tagline 'Genuinely not leather' since 2001. Their designs have seen more than one red carpet (Natalie Portman is a fan) and have graced the pages of many fashion magazines. Their boots range from high-octane glamour to pared-back versatility, and years of research mean that their materials are long-lasting and of high quality. beyond-skin.com
COLLECTION & CO
Grab your favourite design by British brand Collection & Co while you can – to minimise waste, this ethically minded brand only produces limited quantities of each style. Their versatile range includes wear-them-everywhere ankle boots as well as more dressed-up designs, often made from leftover materials from previous collections, another initiative in the brand's efforts to be kinder to the planet. collectionandco.co.uk
BHAVA STUDIO
This New York label is big on sustainability – in fact, the brand's founder Francisca Pineda is a former teacher of Ethical Fashion and Sustainable Design at the Fashion Institute of Technology in New York. In her label, Francisca is mindful of animal rights as well as the welfare of workers and the impact on the environment. Her range offers a vast and versatile selection of chrome-free, PVC-free vegan leather shoes. bhavastudio.com
SYDNEY BROWN
Sleek and contemporary, Sydney Brown's approach to vegan design is the perfect fit for a minimalist fashion lover. Each piece is handcrafted in a high-performance factory in Portugal which is committed to sustainable practices. Some ethical shoppers struggle with knowing whether the smaller elements of shoes, such as glues, are actually vegan – and this information can be difficult for brands to get hold of. At Sydney Brown, however, they can confirm the shoe is entirely free from animal by-products. sydney-brown.com
ALLKIND
Launched in 2020, Allkind designs their shoes in the UK and then hand-makes each style in Spain. Whatever your style, Allkind's eclectic range is likely to have a shoe for you. Not only are their vegan boots a perfect complement to any outfit, they also take sustainable practices that extra step forward by offering recyclable packaging and taking part in carbon-offsetting initiatives. Recycled and recyclable materials are prioritised by the brand in many ways. For example, all the soles of their shoes are made entirely from recycled fibres. allkind.co.uk
GOOD GUYS DON'T WEAR LEATHER
French designer Marion Hanania studied under the legendary Pierre Hardy at l'Ecole Duperré in Paris. She went vegetarian in 2006, which led her to starting up France's first vegan footwear label five years later. Entirely made in Europe, Marion's take on French-girl chic shoes were the first of their kind in the country, inspiring countless ethically minded Parisian fashionistas. Today, she lives in California with her partner and their black cats – and is still designing cruelty-free, fairly produced vegan shoes. goodguysdontwearleather.com